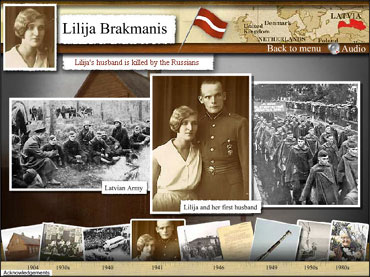 Interactive
New Homes (2.3mb) (requires Flash)
Learn about two 'displaced persons' who migrated to Australia from Europe after World War II and make a museum exhibition about their stories.
For 8-12 year olds.
Overview
Explore the lives of two European women who lived through World War II before immigrating to Australia to start a new life. Learn about their stories by examining a collection of archive photographs, their personal memorabilia and audio commentary describing their backgrounds and circumstances surrounding their leaving; their skills; how these skills were used or rejected on arrival; and the challenges the women faced in settling in Australia.
After investigating the women's stories, build a museum exhibition about the experience of migration using artefacts and photographs from each woman's story.
Title your exhibition with one of the themes of 'Leaving home', 'Separation from friends and family', 'Skills and work', or your write your own theme, then write captions for each object to describe how it relates to your chosen theme.
Objects from the Museum's collection used in the interactive include the dentist equipment Lilija Brakamis brought from Latvia but was not qualified to use in Australia and a dress and other craftwork made by Petronella Wensing after her arrival in Australia from The Netherlands.