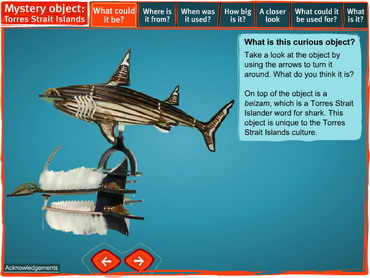 Interactive
Mystery object: Torres Strait Island (1.08mb)
(requires
Flash
)
What is this mysterious object? Learn about Torres Strait Islander history and culture and find clues about this object's use and cultural significance.
For 7-12 year olds.
Overview
In this interactive, you are shown a wonderful Torres Strait Island object, made by Torres Strait Island artist, Ken Thaiday, for the Museum's collection.
First take a good look at the object and guess what it could be. Then learn a little more about the Torres Strait Islands and their trading history to find clues about where exactly this type of object could have come from.
You will then examine a timeline that gives past practices and influences that might have influenced Ken in making the object.
You can now find out how big it is and examine individual parts of the object to see what they are made of and what they represent. You may then want to change your mind about what you think the object is using information you have learned.
Finally, you look at three different types of activities it could have been used for and make your final decision regarding the object's identity.