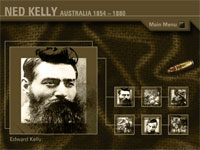 Join a panel of people set up to cast judgement on these famous outlaws: Ben Hall, Ned Kelly, Salvatore Giuliano, Jesse James, Pancho Villa and Phoolan Devi.
Access the case for the defence and the case for the prosecution, as well as key witness statements.
Were they heroes or villains? It's up to you to decide.
Launch Make Your Verdict – Flash interactive