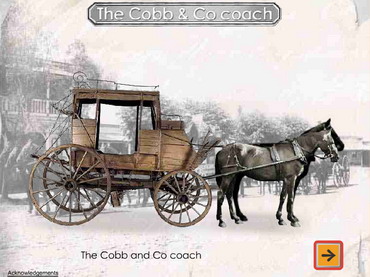 The Cobb & Co coach (2.2mb) (requires Flash)
Take a bumpy ride back to the time of the Cobb & Co coach. For 5-7 year olds.
Overview
Join Zoey on a trip back to Bathurst, New South Wales, in 1865 when Cobb & Co coaches were used to transport people and letters around Australia.
First look at the Cobb & Co coach that Zoey's great-great-grandmother rode in when she was a girl. Select each part of the coach to find out more about it and compare the coach to modern day transport.
Then find out what a Cobb & Co coach trip was like by driving the coach along the road from Bathurst to Forbes. Then make the same trip in a bus today to see how transport has changed in the last 150 years.
The mail coach seen in this interactive is likely to have been made by Cobb & Co and used by the Nowland family on their network of mail and passenger services in northern New South Wales in the 1880s.
Related link: