Who's Who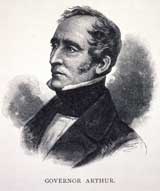 George Arthur (1784–1854)
Arthur was Lieutenant-Governor of Van Diemen's Land from 1824–1836. His office was subordinate to the Governor of NSW. A very stern man, his evangelical Christian beliefs influenced his administration. He was determined to show convicts the error of their ways. Arthur also sought the orderly administration of Tasmanian Aboriginal people, instigating roving parties to take people captive. Batman was the leader of one such party.
In a desperate attempt to stop violence, Arthur initiated the 'Black Line' (also involving Batman), a failed attempt to round up all remaining Tasmanian Aboriginal people.
Arthur was deeply disappointed by his recall to England, whilst his enemies in the colony celebrated his departure.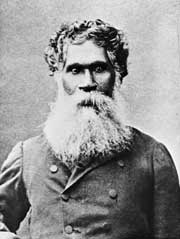 Barak, also known as William Barak (1824–1903)
Barak was sometimes called 'King William last Chief of the Yarra Yarra tribe', which suggests the impact the Reserve had on the local population. As a boy, Barak had witnessed the visit of Batman's party in 1835.
He emerged in the 1870s as a prominent advocate for his people. Outside his community he shared cultural knowledge with early anthropologists and through his artwork.
His esteem is seen in a handsome oil painting and a marble monument erected in his honour after his death. He remains an iconic figure in Victorian and Koori history.
The 'chiefs'
The eight 'chiefs' were senior Kulin men. They seemingly belonged to the Woi wurrung and met Batman as he travelled across their land.
Batman's claim to land at Melbourne and Geelong rest on his claim that he persuaded them to enter a contract with him.
They were unwittingly the most important players in his piece of theatre. He initially gave the impression that the men signed the deeds but later suggested that he copied their marks. Rather than selling their land, a more likely explanation is that the men were exercising the traditional notion of Tandarrum – accepting gifts in exchange for the temporary use of land.
The names of Aboriginal groups in Australia presented a problem for colonials. Various names have been used.The Woi wurrung were the local language group. The Wurundjeri were the larger 'tribal' group. Kulin are the 'nation' group. Koori is the inclusive name now used across south-east Australia covering Aboriginal people. The Yarra Yarra tribe is obsolete.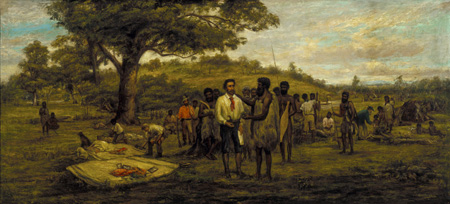 John Batman (1801–1839)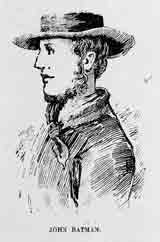 John Batman remains an enigmatic colonial figure. For some he was a rogue, for others he remains the noble founder of a city.
He was born in 1801 in Parramatta and died in 1839 in Melbourne. He moved to Van Diemen's Land in 1821 with his brother Henry and took up a property in the north-east near Ben Lomond. He married Eliza Callaghan, an escaped convict. Batman captured the bushranger Mathew Brady in 1826 and was a member of the 1831 'Black Line' – a failed attempt to round up all remaining Tasmanian Aboriginal people.
In 1835 he executed the plan of the Port Phillip Association to buy land from the Aboriginal people. The plan failed and Batman, like everyone else, had to buy land from the government.
He died of syphilis on 6 May 1839, abandoned, debilitated and crippled.
The artist John Glover, his neighbour at Ben Lomond, said Batman was, 'a rogue, thief, cheat and liar, a murderer of blacks and the vilest man I have ever known'.
George Augustus Robinson wrote in his diary that Batman was 'a bad and dangerous character. He married a prison woman. He has recently lost part of his nose from the bad disease. Recently turned his wife out of doors because the prisoner servants said they saw the cook in the bedroom with his wife.'
Arthur praised Batman's work but commented drily, 'He has much slaughter to account for.'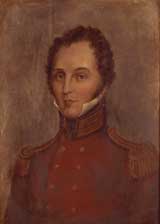 Sir Richard Bourke (1777–1855)
As Governor of NSW, Bourke issued the Proclamation of 10 October 1835 that nullified Batman's Treaty.
Enmeshed in the conflict between the Exclusives and the Liberals he struggled to control land policy and prohibit squatting. Weakened by the conflict, he resigned the Governorship in 1837.
A measure of his popularity can be seen in the public subscription to a statue that now stands in the Public Library of NSW.
William Buckley (1780?–1856)
William Buckley was born around 1780. He joined the British Army and fought in the Napoleonic Wars.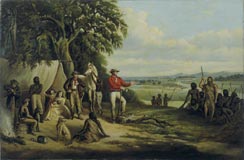 In 1802 he was convicted for receiving stolen cloth and transported, with 362 others, on the Calcutta to Port Phillip where he absconded with two companions. The two others were not heard of again while Buckley, 32 years later, made contact with the small party left at Indented Head awaiting Batman's return. Buckley initially had difficulty recalling his spoken English but identified himself by the tattooed initials on his arm 'WB'.
JH Wedge secured a pardon for him from Governor Arthur and he became a valuable interpreter and go-between for the British.
He is erroneously believed to have inspired the Australian saying 'Buckley's chance'.
John Pascoe Fawkner (1792–1869)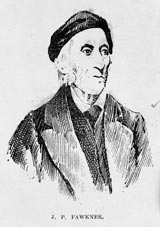 With Batman, Fawkner is considered the co-founder of Melbourne. Fawkner was born in London and accompanied his convict father to Port Phillip in 1803 on the Calcutta. In 1815 he was implicated in an attempted escape by convicts resulting in a sentence of 500 lashes and three years hard labour in NSW.
In 1828 he established the Launceston Advertiser with a vow to oppose officialdom. In 1835 Fawkner acquired a vessel, renamed it the Enterprize, and planned an expedition to Westernport in April 1835.
The day that Batman left in the Rebecca, Fawkner was in court charged with assaulting William Bransgrove and was prevented from leaving the colony. He finally arrived in Port Philip in August 1835. Within four years his personal wealth was estimated to be £20,000.
In 1851 he was a member of the Legislative Council and represented the Central Province of Victoria in the Parliament from 1855 to his death.
The Quakers
James Backhouse was an influential Quaker missionary who, with George Washington Walker, arrived in Van Diemen's Land in February 1832. The two Quakers strengthened Christian faith in the colony and advocated conciliation with the Aboriginal people and better treatment of convicts. They met Batman in 1833. The idea of a treaty, based on William Penn's model, probably came from them.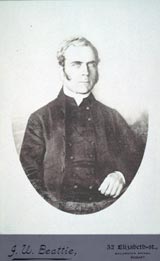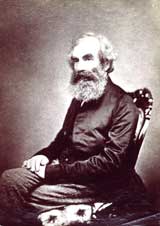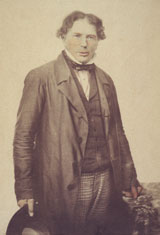 John Helder Wedge (1793–1872)
Wedge arrived in Van Diemen's Land in 1824 and worked as a surveyor. His arduous journeys brought him into contact with Aboriginal people, bushrangers and John Batman.
Believing that his career was frustrated by the Colonial Office, he found the prospect of settling Port Phillip attractive. Wedge recommended to Lieutenant-Governor Arthur a pardon for Buckley.
He surveyed the 600,000 acres that Batman had supposedly acquired and was one of the first to introduce sheep to Victoria, at his property near Werribee. Between 1855 and 1868 he was a member of the Legislative Council of Victoria.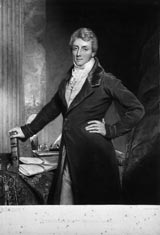 Lord Glenelg (1778–1866)
Charles Grant, born in India, was a member of the House of Commons from 1811–1839.
He was appointed Secretary of State for the Colonies in April 1835 in Lord Melbourne's cabinet. He was made Baron Glenelg in May of that year.
His irresolute handling of Canadian affairs, the Kaffir War in the Cape Colony and his refusal of constitutional reform in New South Wales and Van Diemen's Land caused him to resign in February 1839.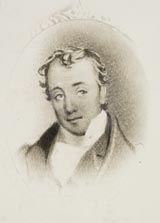 Joseph Tice Gellibrand (1786–1837)
Gellibrand was the legal and strategic brains behind the Port Phillip Association plan.
Born in England, he was admitted as a barrister in 1816. In 1823 he was appointed to the newly created position of Attorney-General of Van Diemen's Land. He was sworn in on 7 May 1824.
He fell into conflict with Arthur by making independent decisions about the legal affairs of the Crown. Gellibrand was investigated for improper conduct and he was suspended as Attorney-General in February 1826. Gellibrand was eventually vindicated but it was too late for reinstatement.
In 1827 he became editor of the Tasmanian. He was instrumental in establishing the Port Phillip Association and drafted the deeds for Batman. He travelled to Port Phillip in 1836.
In April 1837, with GBL Hesse, he went exploring the country and disappeared, presumed murdered.
Members of the Port Philip Association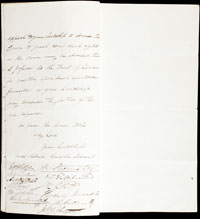 Henry Arthur
Thomas Bannister
John Batman
John Collicott
Michael Connolly
Anthony Cotterell
JT Gellibrand
George Mercer (the agent in England for the Association)
J & W Robertson
WG Sams
James Simpson
John Sinclair
Charles Swanston
JH Wedge