Reflection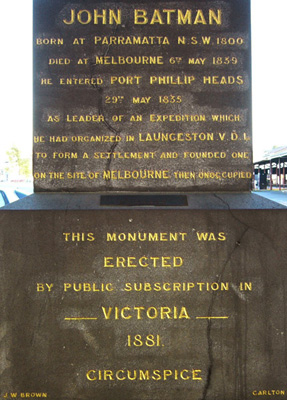 Batman remains a controversial figure.
He was denounced by his Tasmanian neighbour, the artist John Glover, as a 'rogue, thief, cheat and liar, a murderer of blacks and the vilest man I have ever known'.
He was consistently maligned as a fraud by John Pascoe Fawkner.
Yet John Batman maintains a legendary status.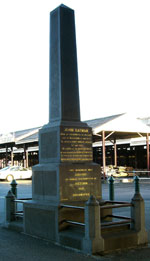 His reputation was favourably treated in the 1880s and the 1930s with anniversary celebrations of the founding of Melbourne.
Seemingly, he has been rehabilitated successfully.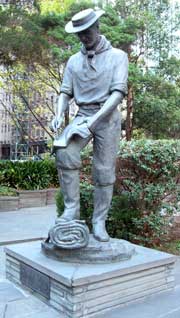 Legends, or myths, are maintained despite the historical evidence we can discover about what really happened. Indeed, the same set of events or facts can provoke differing interpretations.
For some, the Batman deeds are the precursor to land rights or native title, an early recognition of Aboriginal ownership of land.
For others the Batman deeds were a trick, a scheme to gain broad acres for a trifle.
For others, Batman and Fawkner were visionary entrepreneurs who sought to persuade all and any, including Aboriginal 'chiefs' and the colonial governments, that the settlement of Port Phillip by gentlemen of Van Diemen's Land was the best possible investment for the Australian colonies.
Food for thought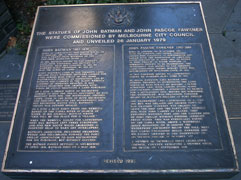 Has Batman's historical legacy been justly recognised?
What does he deserve?
The Batman name endures in many places:
a bridge over the Tamar in Tasmania
streets in Melbourne and Canberra
a park in Melbourne – he shares the name with Fawkner
an Inn in Launceston – he shares the name with Fawkner
a motel in Melbourne
a Federal Government electorate
a bronze statue in Collins Street.
Batman may be a hero for some, but he's no superhero.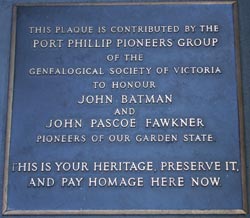 Points of view
Government
The Melbourne City Council and the State of Victoria regularly celebrate the founding of 'Marvellous Melbourne'.
The need to secure the heroic reputation of Batman in finding a 'place for a village' is central. Perhaps all great cities need a great founding myth.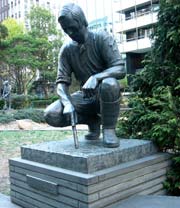 Entrepreneurs
Batman and his associates, and others like Fawkner who followed closely behind, displayed flair, courage and boldness as entrepreneurs.
A generation later the field was open for business and economic development with the abolition of the convict system in the eastern colonies, self government and the discovery of gold.
Batman and Fawkner were pioneers of not only a village, a city, a colony and a state, but they pioneered a powerful entrepreneurial style.
Kooris
Was the Treaty a land grab from the Woi wurrung and the wider Aboriginal clans of Victoria?
Was it a recognition that they owned the land, contrary to the imperatives of the governments in Sydney, Hobart and London?
Was Batman acknowledging ownership or executing a clever fraud?
Would the settler story – a founding myth about the origins of Melbourne – completely erase the Koori story?