Prior history
By the early 1830s, in New South Wales and Van Diemen's Land, good land was in short supply. The best blocks were taken. Government was no longer just giving land grants to favoured men but selling it for 5 shillings per acre.
In Van Diemen's Land the sheep population was increasing steeply and the woollen mills of Yorkshire were buying all they could get. There was money to be made but clearing forested land to run more sheep was back-breaking work. The top economic priority was to find good new pasture.
Batman's associates hatched a plan to expand sheep and cattle herds across Bass Strait. But how to do it? The governments in Hobart, Sydney and London must be persuaded.
The plan needed three main elements: a plausible legal basis, economic viability with no cost to government and a civilising mission towards the Aboriginal people.
The Deed was the model.
Food for thought
The colonial frontier had become an intractable problem.
Aboriginal people in town had become sick and often dependent, while on the edges of settlement violence was too common. Land was in dispute.
Was there an alternative? Perhaps the Pennsylvania model of 1682 might work? William Penn, the Quaker, had famously purchased the land from the Delaware Indians, the Lenape. The Quakers visiting Van Diemen's Land, Backhouse and Walker, had perhaps spoken of the Treaty of Shackamaxon. A treaty might work at Port Phillip? Who could be persuaded?

View an enlarged image of Penn's 1682 Treaty (316kb PDF)
Points of view
Batman and Co.
Batman's associates were entrepreneurial free men with some wealth and a very cunning plan. The economic circumstances of the colony might improve along with their own. Hume and Hovell had already explored the promising region in 1825.With diplomacy and a good strategy, the vast grasslands around Port Phillip might be theirs for the taking.

NSW Governor Richard Bourke and Van Diemen's Land Lieutenant Governor George Arthur
Containing the people of the penal colonies was a problem. Enemies were influential and energetic. Order and economy had to be balanced against demands for land and greater liberties. A well spread population was costly. Law, order and expense were the priorities. The convict colonies must not become attractive. Violence on the frontier had to be quelled. Control, firm control, was needed.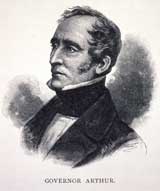 The brothers Jagajaga
The Woi wurrung and Boon wurrung had not seen a heavy colonial presence. The older people remembered the brief, confused, alarming visit by colonists and convicts in two great ships in 1803. It was then that the tall white man William Buckley, shivering, stayed behind and learned to talk their language. Sealers sometimes came. Daily life, its struggles and pleasures, was about to change utterly in their country. Whose country?