Information and activities in this resource complement the free exhibition Yalangbara: Art of the Djang'kawu. This resource will help you prepare for a visit to the exhibition; it can also be used in the classroom afterward.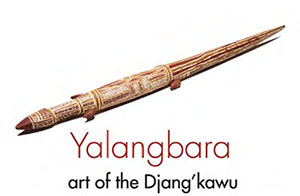 Specifically, it introduces and suggests activities around:
the 1963 Yirrkala bark petition
copyright over cultural designs
creation of the Yalangbara environment and the Dhuwa people
artists and their work in the exhibition
About the exhibition
Yalangbara: Art of the Djang'kawu is the story of the Djang'kawu, ancestral beings from Burralku who came to Yalangbara, giving birth to the Rirratjingu clan. It is also the story of the Marika family – direct descendants of the Djang'kawu and custodians of the region.
Find out
more about the exhibition
.