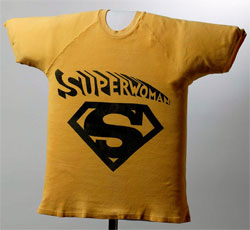 Explore the use of text on clothing in this lesson plan for teachers of Year 9 English. The lesson provides whole class and group activities for students to examine how text and symbols are used to convey a message, using images of three different T-shirts as stimulus. Students are asked to consider the audience, message, 'brand' and design of the T-shirts, then use this knowledge to design a T-shirt promoting a local issue of their choice.
Key learning objectives
Analyse and interpret the visual text on three T-shirts held in the collection of the National Museum of Australia.
Identify that text can be multi-layered and complex and that the use of symbols and icons augment the meaning of print in multimodal texts.
Apply knowledge of how to use messages and symbols in order to produce and convey ideas and information to an audience by designing a T-shirt.
Educational value
Provides a lesson for teaching about persuasive text and symbolism, using images of T-shirts as stimulus.
Encourages students to analyse the audience, message and effectiveness of text on T-shirts, as used to promote an issue.
Engages students in creative design tasks using multimedia tools.
Provides images of three T-shirts from the collection held in the National Museum of Australia.