WARNING: Visitors should be aware that this website includes images and names of deceased people that may cause sadness or distress to Aboriginal and Torres Strait Islander peoples.
At a glance
Three woven pandanus sculptures
Made by Aboriginal artists from Western Arnhem Land
Modern representations of traditional spiritual mermaid-like figures
Builds on the National Museum's existing Indigenous collection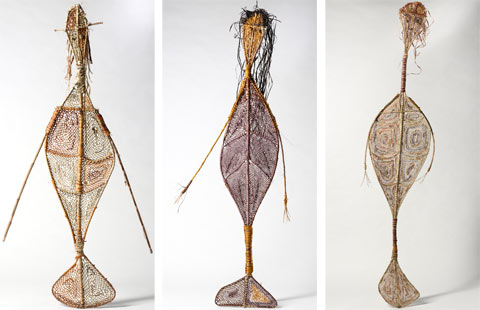 Spiritual beings from freshwater streams
A new collection of woven pandanus figures brings a rich dimension to the National Museum of Australia's collection from Western Arnhem Land.
Western Arnhem Land lies adjacent to Kakadu National Park in the Northern Territory of Australia. The National Museum holds bark paintings and pandanus baskets, mats, armbands and dolls from the area.
The three yawkyawk figures are a recent manifestation of a traditional Aboriginal story about spiritual beings found in freshwater streams. These yawkyawks were crafted by artists Lulu Laradjbi and Marina Murdilnga. The National Museum acquired the yawkyawks through Maningrida Arts and Culture, a community-based Aboriginal arts organisation.
Mermaid like forms
Yawkyawk is a word from the Aboriginal Kunwinjku/Kunwok language, meaning 'young woman' and 'young woman spirit being'.
Sometimes compared to the European notion of mermaids, yawkyawks are usually depicted with the tails of fish. They have long hair, associated with trailing blooms of algae, typically found in Arnhem Land streams and rock pools.
National Museum curator Kipley Nink said the yawkyawks were a relatively new way of representing ancestral beings which had existed in stories for many years.
The figures add a new dimension to the National Museum's collection, showing new directions in dynamic fibre craft practices.
More