WARNING: Visitors should be aware that this website includes images and names of deceased people that may cause sadness or distress to Aboriginal and Torres Strait Islander peoples.
At a glance
Papunya
Western Desert art
Rothmans Art of Aboriginal Australia exhibition, Canada, 1974–76
Aboriginal Arts Board
Early Papunya painting
Story of the Women's Camp and Origin of Damper featured in the first major international exhibition of Western Desert art, in Canada in 1974.
The Rothmans Art of Aboriginal Australia exhibition, conceived by the Aboriginal Arts Board, led the way in promoting Aboriginal painting overseas and its eventual recognition as fine art.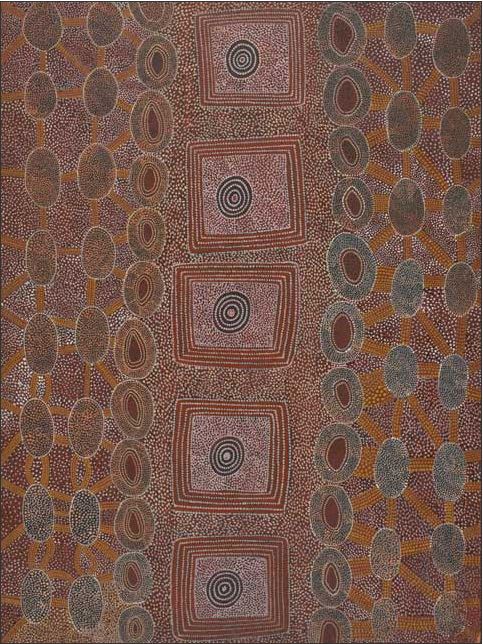 Shaped by ancestral forces
Painted by Anatjari Tjakamarra in 1973, Story of the Women's Camp and Origin of Damper, depicts a journey undertaken by a group of women whose ancestral forces shaped the desert landscape.
The linear array of squares represents the path they travelled. The circles represent dampers made from wild seeds. The circles are joined by a connecting grid that links the exploits of the women to a wider network of Pintupi sites and people.
Story of the Women's Camp, along with seven other paintings in the Rothmans exhibition, was produced on boards that were both larger than earlier works, and of a standard size. These larger boards were commissioned specifically for exhibition.
They mark a brief transitional phase in the history of the Papunya painting movement, between the small, irregular-sized wooden boards used in the beginning, to the large stretched canvases for which Papunya is famous today.
Story of the Women's Camp was bought at auction by the National Museum of Australia in 2010 after being held in a private collection for many years. It joins many other important early paintings and artefacts in the Museum's coveted Aboriginal Arts Board collection.
More on the National Museum's Papunya collection
Anatjari Tjakamarra: a respected man and a gifted artist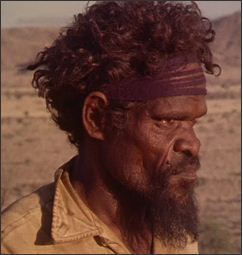 Anatjari (Yanyatjarri) Tjakamarra lived a foraging life remote from Europeans until 1966. His country near Kulkuta, in Western Australia, was dominated by sand dunes and Dreaming tracks of the Native Cat and Tingarri men. He was a Pintupi man with strong affiliations to Ngaanyatjarra people in the south.
Tjakamarra was contacted in 1966 by a patrol officer working for the weapons research establishment based at Woomera. Estimates place Tjakamarra in his late twenties at the time. He had two wives and two daughters.
Tjakamarra was given a lift to Papunya and within five years was among the first group of artists to begin painting with acrylics supplied by school teacher Geoffrey Bardon. Tjakamarra was a highly respected man and ritual leader, a gifted artist who quickly adapted to the new medium of acrylic painting.
He was an exceptional painter, part of the original 1971 group of Papunya painters, and produced meticulous work of great precision.
At Papunya, Tjakamarra had exposure to Aboriginal artists such as Kaapa Tjampitjinpa, who were accomplished with brush and watercolour.
Papunya brought Pintupi, Anmatyerr and Warlpiri group together. In this cosmopolitan environment, Tjakamarra's painting developed quickly. However, the Pintupi were not happy at Papunya and in the 1970s they set up a series of separate camps around Papunya.
'Virtuosic in its interest in form'
At the time Story of the Women's Camp was painted, Tjakamarra had moved to Yayayi, 30 kilometres west of Papunya.
Fred Myers, an American anthropologist, worked closely with Tjakamarra at Yayayi from 1973–1975, and accompanied Tjakamarra and other Pintupi men to Yawalyurru, an important site. The 1974 trip was filmed by renowned filmmaker Ian Dunlop. Drawing on a series of 31 paintings produced in this period, Myers expounds the view that: 'Yanyatjarri's work is virtuosic in its interest in form'.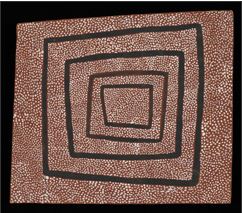 For Tjakamarra, painting provided an outlet for his deep ritual knowledge and desire to return to his homeland, a desire made difficult by the distance from Papunya (more than 300 kilometres) and the inaccessibility of the terrain.
Undeterred, Tjakamarra and his Pintupi compatriots shifted to Kintore, 200 kilometres west of Papunya, in 1981. He was instrumental in the establishment of Tjukurla, a settlement near Lake Hopkins, in Western Australia. From here, Tjakamarra organised another expedition to Yawalyurru with former patrol officer Jeremy Long, historian Dick Kimber, National Museum curator Peter Thorley (then a teacher linguist working at Kintore), Papunya Tula field officer Jeff Hulcombe and 11 Pintupi men.
This 1987 journey involved six days of travel over numerous sandhills in a period of hot weather. The site was reached but the party came into difficulty on the return trip with vehicle problems and lack of water. Assistance was sought by radio and a rescue vehicle was sent from Kintore.
As the site's senior custodian, Tjakamarra's prime concerns were to protect the area from damage by mining companies and to ensure the correct rituals were performed.
Tjakamarra was based at Tjukurla for most of the 1980s. In the late 1980s, after a break from painting, he resumed work for Papunya Tula Artists in Kiwirrkura.
He had a solo exhibition in New York in 1989, from which the Metropolitan Museum of Art purchased its first work by a Western Desert artist.
Tjakamarra died in 1992.
Taking Aboriginal art to the world
The current popularity of Aboriginal art was not matched in the early days of the acrylic painting movement which started at Papunya in 1971.
For the first decade or so, the artists toiled with little recognition from the art scene in Australia or abroad. Government support was critical to the survival of Papunya painting during the first decade.
In 1973 the Commonwealth Government set up the Aboriginal Arts Board to assist Indigenous artists and promote their works. Under the guidance of an all-Aboriginal Board and founding director Bob Edwards, the Board introduced overseas audiences to Aboriginal art through an audacious international exhibition program.
Uta Uta Tjangala's giant acrylic painting Yumari, below, produced at Papunya in 1981, has become an icon of Australian art. It has starred in exhibitions in Australia and around the world and an image taken from the work has featured in the design of the Australian passport where it will be seen internationally by millions of people.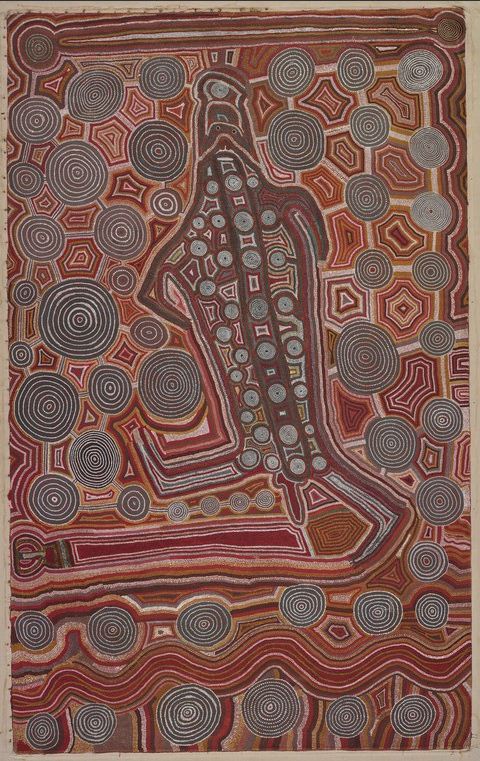 Papunya and Australia's image abroad
Today, Aboriginal artists feature regularly on the international circuit at venues including the Venice Biennale, the Musee du Quai Branly in Paris and the National Art Museum of China. In 2010 Icons of the Desert, a major exhibition of early Papunya paintings toured across America. The National Museum's Papunya Painting: Out of the Australian Desert, which included Yumari, was hosted in Beijing as part of the International Year of Australia in China.
Sponsored by the Department of Foreign Affairs and Trade, the Beijing exhibition followed a strategy developed by the Aboriginal Arts Board in the 1970s, to use Aboriginal art to promote Australia internationally.
Papunya paintings appeared throughout the world in overseas galleries and embassies. These paintings were gifted to overseas governments and institutions as part of international relations exercises. The early movement of Papunya paintings beyond Australia were incredibly significant in raising awareness of Aboriginal art internationally, and in linking Papunya painting to Australia's image abroad.
Historians of the Western Desert art movement trace the beginnings of the boom in international market sales to the Bicentennial exhibition Dreamings: The Art of Aboriginal Australia which opened in New York in 1988, but the first steps taken to raise the profile of modern Indigenous art had begun well over a decade earlier.
The Rothmans Art of Aboriginal Australia exhibition
The first major exhibition toured by the Aboriginal Arts Board was opened with great fanfare at Stratford in Canada in June 1974. This became known as the Rothmans exhibition after its commercial sponsor, Rothmans of Pall Mall, but its official title was Art of Aboriginal Australia.
In the 1970s the tobacco industry was a major sponsor of the arts. Canadian audiences flocked to the exhibition in their droves. Hundreds turned out for the opening, where a gourmet buffet was served under a marquee set up on the gallery lawns.
There were politicians and celebrities and television media coverage. Free cigarettes were handed around to the admiring crowd. 'Rothmans had a party yesterday and everybody came,' wrote one reporter. 'And to think,' the report continued, 'smokers paid for the whole thing'.
Commercial sponsorship was another key part of the Aboriginal Arts Board's marketing strategy. The success of the exhibition owed much to Rothman's support, though the Board commissioned and selected all works and produced the catalogue.
Story of the Women's Camp was one of 17 Papunya works which hung alongside boomerangs, Tiwi sculptures and Hermannsburg watercolours. The Western Desert acrylic paintings held pride of place.
At the tour's end most of the art works were gifted to the 13 Canadian host museums and art galleries. With few exceptions most have not been seen since.
This is an edited extract of an article by National Museum of Australia curator Peter Thorley which originally appeared in the World of Antiques and Art.