WARNING: Visitors should be aware that this website includes images and names of deceased people that may cause sadness or distress to Aboriginal and Torres Strait Islander peoples.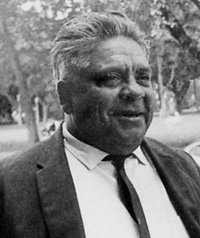 At a glance
Wharfies hook and tuckerbox
Aboriginal political activist Joe McGinness (1914–2003)
Overlapping roles as a wharfie and activist in the 1950s and 1960s
Builds on the National Museum's Indigenous collections
A lifetime of campaigning
Joe McGinness was a well-known campaigner for Indigenous rights in Australia. His mother was from the Kungarakany people in the Northern Territory and his father was an Irish immigrant. Joe served in Borneo during the Second World War. Afterwards he worked on the wharves in Queensland, where he joined the Waterside Workers Federation (WWF).
Political training
Joe's involvement with the WWF was important for two reasons. First, unlike most other industries at this time, on the waterfront Aboriginal and Torres Strait Islander people were accepted as equals. Second, through the union he learnt the mechanics of running meetings and other procedures, skills that were invaluable in his campaigning work as president of the Federal Council for the Advancement of Aborigines and Torres Strait Islanders (FCAATSI) from 1961-1977. FCAATSI was the peak body that campaigned for Indigenous rights in the period leading up to the 1967 Referendum.
Wharfies hook and tuckerbox
This wharfies' hook was used by Joe in the 1950s and 1960s on the wharves at Cairns. For an Aboriginal waterside worker such as McGinness, the hook symbolises his acceptance as a worker of equal status. The tuckerbox was used by McGinness in trips around northern Queensland and the Northern Territory in the 1960s and 1970s.
Joe gave his wharfies' hook to his close friend and neighbour when he was cleaning up his shed, while Joe's granddaughter offered him the tuckerbox after Joe passed away, recognising it held special memories for him. Joe's neighbour subsequently donated the collection to the National Museum.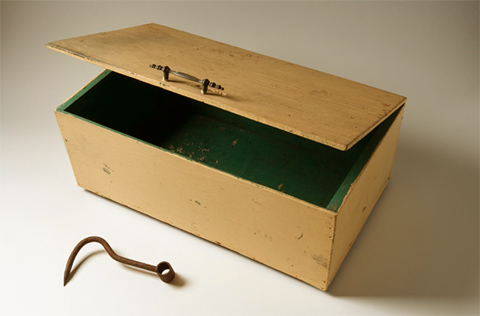 Indigenous civil rights material culture
The Museum has a growing collection of Indigenous civil rights material and the wharfies' hook and tuckerbox are a valuable addition.
Follow the link below for more on Joe McGinness on the Museum's website Collaborating for Indigenous Rights 1957-1973.
More