At a glance
Coins engraved with convict details and messages of affection
World's largest collection
Created between 1762 and 1856
Left behind by convicts with their loved ones in England
A rare personal and emotional memento from prisoners
On show in the Journeys gallery
Rare personal convict mementos
Smoothing and engraving a coin with a message of affection was one of the few ways a convict transported to Australia could leave a memento behind with loved ones in England.
These small tokens are also known as 'leaden hearts'. They record personal and emotional responses from convicts whose lives are more often represented by official government records.
The National Museum of Australia holds the world's largest collection of convict tokens, with more than 310 in its collection.
Tracing the lines
The tokens often include the names of the convict and their loved one, the length of the convict's sentence and popular phrases and rhymes of separation.
They were frequently engraved around the time of conviction for a prisoner's loved one or family.
The tokens were engraved or stippled, which involves making marks with a series of small pin pricks. They were crafted by professionals and amateurs.
National Museum curator Rebecca Nason has been tracing the history of some of the convicts whose names are engraved on the coins.
James Godfrey
Godfrey was a baker of Soho, London, who was sentenced to seven years transportation for larceny. He arrived in Australia in 1837 and was assigned to various masters.
Godfrey left Tasmania in 1846 a free man. He was bound for Port Phillip on the Shamrock. No further trace has been found.
TOKEN Front: 'James Godfrey, Hannah Jones'. Made by: 'T Boulton, S Stevens'. Reverse: 'When in captivity time goeth very slow, but free as air to roam, now quick the time doth go'.
Thomas Lock
Lock was sentenced to 10 years transportation in 1845 for highway robbery and stealing. A groom by trade, he was one of five children. His family's names were tattooed on his body.
Lock constantly broke the conditions of his sentence in Australia and received lashings and time in solitary confinement. He stole two sheep and was given a life sentence, but received a conditional pardon in 1858.
It is not known if he ever returned to England.

TOKEN Front: 'Thomas Lock, Aged 22, Transped. 10 years'. Reverse: 'When this you see, remember me, when I am far from the [sic]'.
Abraham Lawley
Lawley was sent to Australia for stealing a handkerchief, after he had already served two years in prison for a previous conviction.
His convict record reveals he was a polisher, listed as single at the time of sentencing. Lawley was assigned to a master in Parramatta and later received his ticket of leave.
He was recorded as living in Goulburn for the 1841 census and later ran an inn at Araluen, near Braidwood. He was listed for insolvency and last recorded at Port Macquarie in 1871 where he was on trial for four counts of larceny.
TOKEN Front: 'AL, AP' either side of a balloon. Reverse: Abraham Lawley, In y(ears) 20, Transported Agakeep, Ann Pembuttom 1828'.
Journeys
These three tokens, along with numerous others are on show in the National Museum's Journeys gallery.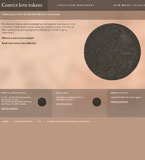 Exploring the collection
Using a multimedia interactive in the gallery, visitors can view and read transcriptions from both sides of all the tokens in the Museum's collection. The entire collection can now also be explored online.
More
Bear me in your mind, The Museum, Issue three, March–August 2013

'Stories of sadness and loss' audio program with collector Peter Lane

'Recent acquisitions: convict love tokens' (PDF 293kb) - Friends magazine, vol. 17, no. 4, Dec 2006.