Welcome to Collection Explorer
Welcome to the National Museum of Australia's new Collection Explorer.
The Collection Explorer is part of our commitment to increasing access to our collections. We hope you enjoy searching, browsing and discovering more rich imagery and information about our collections online.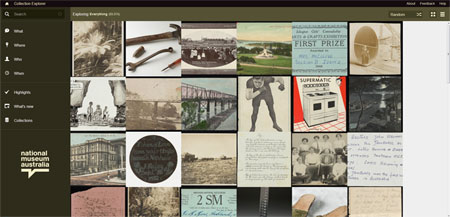 National Historical Collection
At the core of the National Museum and its exhibitions is the National Historical Collection, more than 200,000 objects which represent Australia's history and cultural heritage. Collection Explorer provides digital access to a subset of the collection – almost half – and growing. This includes objects that are on display and many more in storage. New collection records and images are being added continuously and the information on existing records is being enhanced.
From paper to digital
The information in the Collection Explorer represents the efforts of many collectors and institutions over many decades. Since the National Museum was established in 1980, it has inherited and acquired collections and their associated documentation, largely held as paper records. As a result, the extent and quality of the data and images contained in the records varies. While we make every reasonable effort to add to and improve these records prior to publication, this is an ongoing process.
Your feedback
We are interested and excited to hear what you know about our collection. If you have additional information or believe there is an error, please let us know via our online feedback form. Please provide the object number or URL to help identify the object.
A note on sources
Records may contain images and terms that reflect the attitude and circumstances of the original source and the period in which they were created and could be considered inappropriate. These do not reflect the views of the National Museum of Australia.
Warning
Visitors should be aware that Collection Explorer includes images and names of deceased people that may cause sadness or distress to Aboriginal and Torres Strait Islander peoples.