WARNING: Visitors should be aware that this exhibition includes images and names of deceased people that may cause sadness or distress to Aboriginal and Torres Strait Islander peoples.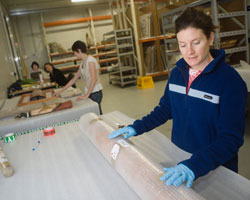 Rich collection of Indigenous art
The Aboriginal and Torres Strait Islander Affairs Art collection includes more than 2000 works collected over several decades. The collection was transferred to the National Museum of Australia from the Department of Family, Community Services and Indigenous Affairs in June 2007.
Background
The collection consists of artworks and culturally significant objects acquired by the former Department of Aboriginal Affairs and the former Aboriginal and Torres Strait Islander Commission. These works come from across the Australian mainland, Tasmania and the Torres Strait.
Issues
A legal deed authorised the transfer of the collection to the National Museum in Canberra. The Museum agreed to collect the works from the various locations where they were stored, and to produce an inventory of the entire collection within four months of the legal transfer.
Approach
A small Registration team was set up to handle the seven semi-trailer loads of material which arrived at the National Museum over a two-week period.
Objects were unpacked in an insulated room with constant temperature and humidity. A team of six Registration staff worked with external contractors to rehouse the collection in the new space.
A collection inventory was created using existing records and the Museum's barcode tracking system.
Results
The Museum fulfilled the conditions of the deed of transfer, with all material now stored in Canberra and a full inventory prepared well within the four month limit.
Two dedicated Registration staff were appointed to work on the project. They continue to work with colleagues from the Locations, Photograph and Documentation and Accessions teams.
Members of the Museum's Conservation and Curatorial teams worked on the project. Conservators checked the condition of the collection and research by curators informed the recommendation to Council to formally add the material to the National Historical Collection.