Royal Daimler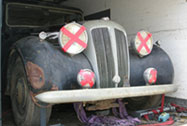 Support the Royal Daimler Project to make this historic car fit for a Queen again. Track the progress and discuss with conservators at the National Museum of Australia.
The National Museum's conservation team manages the preservation and maintenance of the collection. Go behind the scenes to explore some of the Museum's conservation projects and images of conservators at work.


Specialist horological conservator Peter Bucke closely examines and documents the condition of the Blaxland clock.


Ben Chifley's chair restored for display
A chair used by former prime minister Ben Chifley is treated to stabilise existing damage and restore it to its former appearance, before it goes on exhibition.


A large windmill which stood on a Queensland station for more than 80 years is re-assembled in readiness for display at the National Museum.



Displaying the Batman land deed
The Batman land deed is a significant, but fragile, document housed in a custom-built case, allowing visitors to see the document up close.