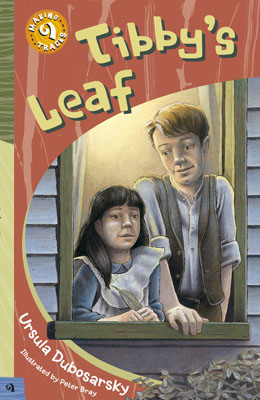 By Ursula Dubosarsky
Illustrated by Peter Bray
ISBN 9781876944681
198mm x 130mm, 64 pp.
published December 2008; re-released January 2015
RRP A$11.95
---
Tibby feels like everything is going wrong. Her big brother Clarence is all grown up, and doesn't want to play with her any more. If Clarence says there aren't any pixies except in books, then what exactly did Tibby see in the bush, peering out from behind a leaf?
Ursula Dubosarsky's story is set in Australia at the time of the First World War and touches on the changes that affected most families as the young men went off to fight.
A great resource for teachers to use for both the SOSE and English curriculum. The title is supported online with a synopsis, discussion questions, and classroom activities, including reproducible worksheets.
Tibby's Leaf was inspired by a postcard called 'Off to the war' designed by May Gibbs and featuring her famous gumnut fairies. This postcard is now part of the National Museum of Australia's collection.
---
This book can be ordered through bookshops and educational suppliers.
---
Further information
Classroom activities for Tibby's Leaf
---