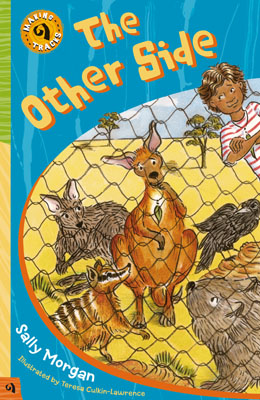 By Sally Morgan
Illustrated by Teresa Culkin-Lawrence
ISBN 9781876944568
Paperback, 64 pages
198mm x 130mm, black and white illustrations
Released September 2007
RRP A$11.95 (SOLD OUT)
---
Things are not going well for Alex! It looks as if he is going to be filmed by a national news crew standing next to his tree-hugging, slogan-yelling, long-haired grandfather. How embarrassing! But perhaps there is a little more going on with Gramps and his friends than Alex realises.
Sally Morgan demonstrates her genius as a storyteller again. She has incorporated a wonderful dreamtime sequence into a contemporary urban story.
The Other Side is supported by fun, child-friendly interactive activities on the National Museum of Australia website, to further engage young readers.
A great resource for teachers to use for both the SOSE and English curriculum. The title is supported online with a synopsis, discussion questions, and classroom activities, including reproducible worksheets.
The Other Side features a segment of the rabbit–proof fence. It is part of the National Museum's collection.
---
Further information
Classroom activities for The Other Side

---