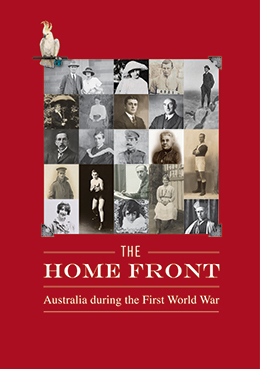 ISBN 9781921953248
National Museum of Australia Press
Paperback, 40 pages
245mm x 168mm, full colour
Published March 2015
RRP A$10
Available via the Museum Shop online or at the Museum's Information Hub and the Museum Shop.
---
It is our baptism of fire … It will test our manhood and womanhood by an immediate local pressure, even though we never hear a shot fired or get a glimpse of the foe.

Editorial, Sydney Morning Herald, 6 August 1914
This book has been produced by the National Museum of Australia to commemorate the centenary of the First World War.
Through rarely seen objects and images, the book tells 23 personal stories that illuminate the choices, opportunities and challenges Australians faced during the war. The people we meet range from the famous, such as Robert Menzies, Billy Hughes and May Gibbs, to everyday Australians, including volunteer nurses, activists, fundraisers and the bereaved.
The Home Front: Australia during the First World War explores the pride, sorrow, passion, wonder and joy experienced by those far from the battlefields.
---
Buy online now from our Museum Shop.
---