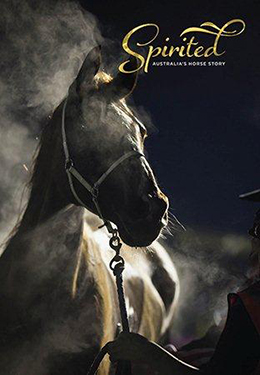 ISBN 9781921953217
National Museum of Australia Press
Paperback, 39 pages
245mm x 168mm, full colour
Published September 2014
RRP A$10 (or A$5 with Spirited exhibition entry).
Available via the Museum Shop online or at the Museum's Information Hub, Museum Shop or Spirited exhibition shop.

---
In 1873, English author Anthony Trollope observed that 'in Australia, everyone keeps horses'.
Since arriving in Australia with the First Fleet, horses have worked alongside people in towns and cities, on stations and farms. They have hauled goods and materials, machinery and passengers, and carried us to war. They have also brought us pleasure, as much-loved companions in our leisure time, and as heroes of the track and field. Their imprint is everywhere.
This booklet is based on a major exhibition at the National Museum of Australia and tells the story of some of Australia's horses, from those that powered the heavy machinery of yesterday, to today's horse superstars.
'Here you will find horses great and small: from Princess, the Clydesdale hauling the local milk delivery cart through suburban Melbourne, to the heroic horses of war and our favourite racetrack celebrities,' says Dr Mat Trinca, Director of the Museum. 'I hope you enjoy this celebration of these beautiful animals that have shaped our society, environment and identity.'
Cover image: Competitor at the Tom Quilty Gold Cup endurance ride, Kilkivan, Queensland, 2013, by Jason McCarthy.
---
Buy online now from our Museum Shop.
---