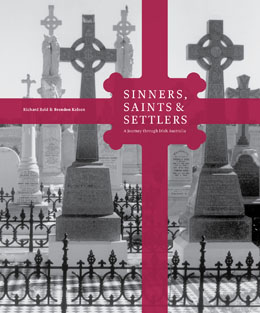 by Richard Reid
photography by Brendon Kelson
ISBN 9781876944766
flexibound, 192 pages
240 x 290 mm, colour
published July 2010
RRP A$39.95
---
From the arrival of the First Fleet to the present day, Irish immigrants and their descendants have been at the centre of Australian life.
In Sinners, Saints & Settlers, author Richard Reid and photographer Brendon Kelson take the reader on a journey through the Irish experience in Australia, visiting locations right across the nation where the Irish story unfolds.
The book concentrates on the period 1788 to 1921, when the Irish presence in Australia was proportionately at its most influential and visible. It spans the years between the Irish rebellion of 1798, which had a profound effect on the emerging colony of New South Wales, and 1921, the achievement of modern Irish independence.
companion to a major temporary exhibition to open at the National Museum of Australia in March 2011
preface written by the Honourable Kevin Rudd MP
major book launch held at the National Museum of Australia
print and radio publicity campaign
author and photographer available for book signings.
Richard Reid was born in Ireland, educated at Trinity College, Dublin, and came to Australia in 1972. His primary interests are in Irish and Australian history, especially the history of Australians at war, and he has published extensively on these topics. Currently, he is a senior curator at the National Museum of Australia, where he is preparing a major exhibition on the story of the Irish in Australia.
Brendon Kelson is a heritage photographer and historical researcher. He has been senior arts policy adviser to four prime ministers, founding general manager of the National Gallery of Australia, and Director of the Australian War Memorial. He is co-author of Kelly Country: A Photographic Journey and has contributed to various other publications and exhibitions including Echoes of Irish Australia: Rebellion to Republic.
---
Buy online now from our Museum Shop.
---