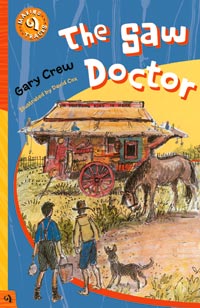 by Gary Crew
illustrated by David Cox

ISBN 1876944412
paperback, 64 pages
198mm x 130mm, black and white illustrations
released July 2006
RRP A$9.95 (OUT OF STOCK)
---
Jo Boy's mother has warned him to stay away from gypsies - she says they steal kids and sell them to butchers for mincemeat. But when he comes across a bright, shiny caravan one day, his curiosity gets the better of him ...
Gary Crew has written many award-winning books for young readers. The Saw Doctor highlights his talent for researching non-fiction events and turning them into engaging fictional stories.
David Cox conveys so much with a few strokes of the pen. As a boy himself in the time of the Great Depression, his illustrations in The Saw Doctor give us a wonderful insight into that period.
The Saw Doctor features the intriguing Saw Doctor's wagon, part of the National Museum of Australia's collection.
---
THIS ITEM IS OUT OF STOCK.
---
Further information
Classroom activities for The Saw Doctor

---