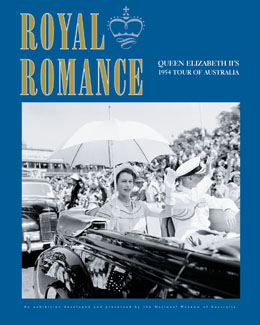 ISBN 1876944277
paperback, 24 pages
300mm x 240mm, duotone
published February 2004
RRP A$9.95 (OUT OF STOCK)

---
This stunning catalogue is presented as a 1950s-style magazine. It recreates the glamour and sophistication of the era, right down to the paper it's printed on!
The magazine features articles illustrated with dozens of striking images from historic photographs of the 1954 tour to eclectic objects from the Museum's and private collections.
Be immersed in the excitement and elegance of the most successful royal tour in Australia's history.
---
THIS ITEM IS OUT OF STOCK.
---
Further information