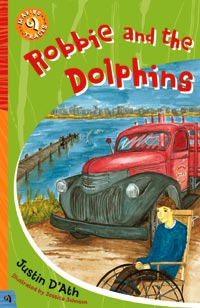 by Justin D'Ath
illustrated by Jessica Johnson
ISBN 1876944404
paperback, 72 pages
198mm x 130mm, black and white illustrations
released May 2006
RRP A$9.95 (OUT OF STOCK)
---
A swift V-shaped ripple arrowed across the water towards Robbie's cap. There was a splash, a slice of grey fin, then the cap leapt into the air ...
Robbie can't swim or play games and everyone treats him like a baby. But with one gust of wind things start getting very interesting ...
Justin D'Ath has written many great adventure and fantasy books for children. This sensitive story will captivate readers of all ages.
This is the first children's book that Jessica Johnson has illustrated. Her images gently evoke the challenges within the story.
Robbie and the Dolphins features a Chev truck built during the Second World War. The Chev is part of the National Museum's collection.
---
THIS ITEM IS OUT OF STOCK.
---
Further information
Classroom activities for Robbie and the Dolphins

---