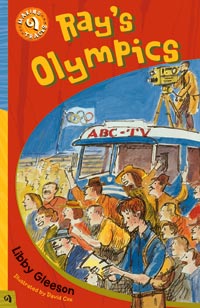 by Libby Gleeson
illustrated by David Cox
ISBN 1876944439
paperback, 64 pages
198mm x 130mm, black and white illustrations
released May 2006
RRP A$9.95 (OUT OF STOCK)
---
Your brains must be mashed. You know those Leary boys. You don't mess around with them.
Ray lied to the school bullies and now he has to find a way into the Olympics before the Leary boys make mincemeat out of him.
Libby Gleeson writes wonderful books for children! She has won many awards including for Hannah and the Tomorrow Room, Hannah Plus One and Shutting the Chooks In.
David Cox conveys so much with a few strokes of the pen. In Ray's Olympics he brings the 1950s to life and portrays characters we can instantly recognise.
Ray's Olympics features an original ABC outside television broadcast van, part of the National Museum's collection.
---
THIS BOOK IS OUT OF STOCK.
---
Further information
Classroom activities for Ray's Olympics

---