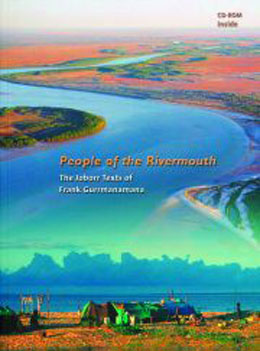 Frank Gurrmanamana, Les Hiatt & Kim McKenzie, with contributions from Betty Ngurrabangurraba, Betty Meehan and Rhys Jones
ISBN 1876944080
CD-ROM and paperback book, 216 pages
235mm x 175mm
published February 2002
RRP A$135 (SOLD OUT)
---
co-published with the Aboriginal Studies Press, Australian Institute of Aboriginal and Torres Strait Islander Studies
People of the Rivermouth: The Joborr Texts of Frank Gurrmanamana is arguably the most comprehensive work ever produced on a single Australian Aboriginal community. It is the result of a four-decade-long relationship between the Anbarra people of the Blyth River in northern Arnhem Land and leading scholars from various fields of research.
The book and CD-ROM are based on 20 extraordinary texts created by Frank Gurrmanamana in 1960 to explain to anthropologist Les Hiatt the protocols and etiquette of Anbarra society. They follow an imagined life from birth through boyhood, to marriage and to death.
The texts are published here for the first time in Gidjingarli and English. The CD-ROM presents them in spoken form, and provides a vast body of information about the Anbarra people, their culture, history, land and environment to help us understand the complex world into which we are invited.
---