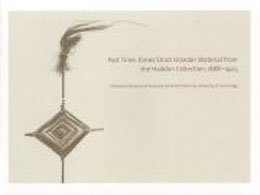 ISBN 187694403 X
paperback, 64 pages
200mm x 270mm, full colour
published March 2001
RRP A$9.95 (SOLD OUT)
---
A National Museum of Australia exhibition from the University of Cambridge.
In 1898, Alfred Cort Haddon led a team of researchers from Cambridge University to the Torres Strait to document and collect cultural material. As a result, objects reflecting Torres Strait Islander beliefs, languages and practices were taken back to England. These objects were housed at the Cambridge University Museum of Archaeology and Anthropology and became known as the Haddon Collection – one of the largest bodies of Torres Strait Islander historical material culture in the world.
This National Museum of Australia exhibition catalogue provides an opportunity for Torres Strait Islander people, and the broader Australian public, to view a selection of rich and vibrant cultural material from the Haddon Collection.
---