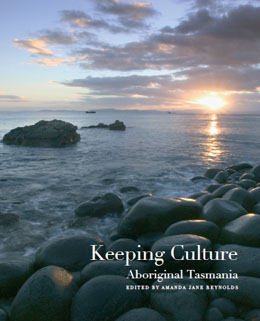 Amanda Jane Reynolds (ed.)
ISBN 187694448X
hardback, 128 pages
303mm x 246mm, full colour
published August 2006
RRP A$49.95 NOW A$20.00
---
Keeping Culture: Aboriginal Tasmania highlights the strength and diversity of contemporary Tasmanian Aboriginal voices through stories, memories, essays and art. Cultural traditions such as mutton-birding, fishing, carving, weaving and necklace-making are celebrated here through poems and songs — and through the craft of the makers.
This book is the culmination of a unique collaboration between an Indigenous community and a museum that has resulted in a rich and diverse collection now held by the National Museum of Australia. Enjoy meeting the people, sharing the stories and visiting the places of Aboriginal Tasmania.
---
Buy online now from our Museum Shop.
---
Notice of incorrect attribution of image
On page 107 of this book is an image of a poster for the Tiagarra Tasmanian Aboriginal Cultural Museum Centre.
The poster is attributed to the work of Max Angus and Lisa Kennedy, which is incorrect.
The correct attribution is 'Illustration by David Hopkins'.
The Museum apologises for this error and has amended their records to show David Hopkins as the creator of the illustration.
Any enquiries or concerns should be addressed to Manager, Copyright & Production Services, National Museum of Australia image@nma.gov.au
---