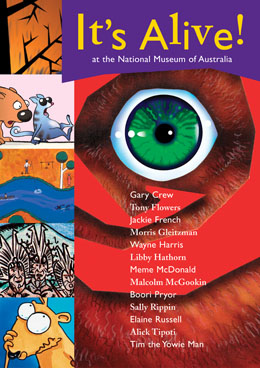 ISBN 187694422 6
paperback, 104 pages
297mm x 210mm, colour illustrations
published October 2003
RRP A$19.95 (SOLD OUT)

---
History is about people, places and stuff that happens.
What sort of stuff?
Adventurers and strange machines
Ghosts and spirits, people's dreams
Animals, some big, some small
Some extinct, long gone, no more!
Fire, water, ancient land
Mysteries, legends, rich and grand
New ideas and old ones too,
And best of all, there's me and you!
Join some of Australia's best-loved writers and illustrators, including Gary Crew, Tony Flowers, Jackie French, Morris Gleitzman, Wayne Harris, Libby Hathorn, Meme McDonald, Malcolm McGookin, Boori Monty Pryor, Sally Rippin, Elaine Russell, Alick Tipoti, and Tim the Yowie Man as they share their stories, poems and pictures inspired by the National Museum of Australia, where history is alive!
---
THIS ITEM IS OUT OF STOCK.
---
Teacher support material
These student learning activities are designed to help teachers fully utilise 'It's Alive!' and maximise learning outcomes. Questions, class activities and BLMs are included.

It's Alive! at the National Museum of Australia student learning activities (PDF 676kb)