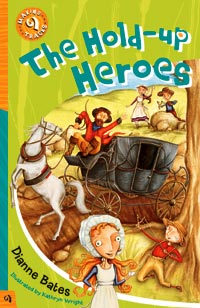 by Dianne Bates
illustrated by Kathryn Wright

ISBN 1876944382
paperback, 64 pages
198mm x 130mm, black and white illustrations
published July 2006; re-released January 2015
RRP A$11.95
---
Polly and James accidentally overhear a gang of bushrangers plotting to hold up the Governor. Their first thought is to tell their parents and become heroes for saving the day. But then they find out their dad might be helping the bushrangers! They need to stop him, but how?
Dianne Bates has written over 70 children's books, most notably her Grandma Cadbury and Bushranger series.
Kathryn Wright's engaging illustrations give the characters life and personality. Kathryn is an experienced illustrator and The Hold-up Heroes is her first children's book. The Hold-up Heroes features the magnificent Ranken coach, part of the National Museum of Australia's collection.
---
This book can be ordered through good bookshops and educational suppliers.
---
Further information
Classroom activities for The Hold-up Heroes

---