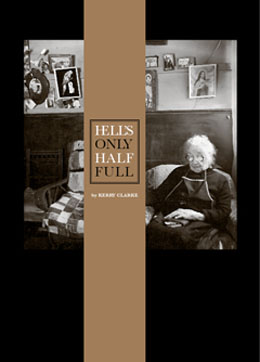 by Kerry Clarke
ISBN 978 1 87694 473 5
hardback, 240 pages, 240 mm x 170 mm, two colour
published October 2010
RRP A$24.95 (SOLD OUT)

---
Hell's Only Half Full tells the colourful story of Victorian pioneer–settler Lucy Little (Nan) through the lives of three generations of her family.
It is essentially a gritty yet engaging story of strong, resourceful women (and fairly ineffectual men) dealing with abject poverty in an unforgiving environment.
Born in 1893, Nan was an indomitable tyrant who had nine children, built her own house, worked into her nineties running a household and farm, and supplementing her widow's pension through her ingenuity.
It is a story peppered with humour — beginning with the spectacle of a horse being given an enema — and spiced with drama, pathos, even fratricide.
It is composed of many vignettes, rather than chapters, making it easy to dip in and out. Acute observations and insights combine to paint a rich portrait of a woman, a family, a community and an era.
This little gem of a book is beautifully illustrated with Kerry Clarke's photography.
---
Further information
Lucy Little's long life
On Thursday 4 November 2010 author Kerry Clarke talked about her book with Richard Aedy on ABC Radio's Life Matters.
Visit the ABC's website to listen to the program and view some of the photographs that feature in the book.
---