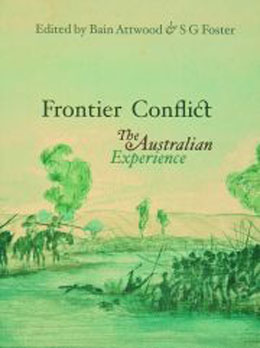 Bain Attwood and SG Foster (ed.)

ISBN 1876944110
paperback, 232 pages
235mm x 175mm, colour illustrations
published February 2003
RRP A$39.95 (SOLD OUT)


---
While many books have been written about Australia's contribution to overseas wars, relatively little has been said about armed conflict within Australia. Yet Australia in the nineteenth and early twentieth centuries was often the scene of conflict, as Europeans seized the land and its resources, and its original owners fought back. The extent of conflict and the degree of violence are matters of much controversy.
This book, based on a forum held at the National Museum of Australia, presents a series of essays by leading contributors to the debate. The different historical and political perspectives make a major contribution to the study of cross-cultural relations in Australia's past and provide valuable background for anyone who wishes to understand relations between Aboriginal and non-Aboriginal Australians today.
---
Buy online now from our Museum Shop.
---