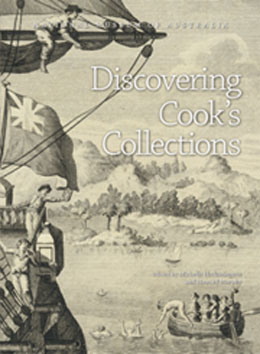 Michelle Hetherington & Howard Morphy (eds)
ISBN 9781876944575
paperback, full colour
136 pages, 235mm x 172mm
published December 2009
RRP was A$29.95 now A$10.00 online
---
Discovering Cook's Collections focuses on the collections of artworks and artefacts brought back from the Pacific on Captain Cook's voyages.
Some of the world's leading and most innovative historians and anthropologists celebrate the richness of Pacific Island cultures in the initial years of European contact, as well as the collections' contemporary relevance to historians and the Indigenous communities who produced them.
The essays explore the history of the collections, their dispersal through the museums and private collections of Europe and the different ways in which they have been interpreted over time.
Yet this book is also part of the process of bringing the works together, placing them in space and time at the moment of their collection and following the journeys they subsequently undertook.
The reader moves from the dynamics of the initial encounters and the rivalries among the scientists of the times to contemporary reflections on the past and the reincorporation of the objects and histories into the present day.
---
Buy online now from our Museum Shop.
---