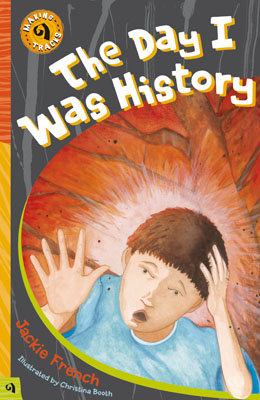 By Jackie French
Illustrated by Christina Booth

ISBN 9781876944551
Paperback, 64 pages
198mm x 130mm, black and white illustrations
Released September 2007
RRP A$11.95 (SOLD OUT)

---
Sam's Saturday begins like any other but he is soon battling wind, flames and blackened skies as he desperately tries to find his home.
Jackie French has done it again with this moving and fast-paced story of a young boy's experience during the Canberra bushfires of 2003.
The Day I Was History is supported by fun, child-friendly interactive activities on the National Museum of Australia website, to further engage young readers.
A great resource for teachers to use for both the SOSE and English curriculum. The title is supported online with a synopsis, discussion questions, and classroom activities, including reproducible worksheets.
The Day I Was History features the burnt wheel and hub of a fire truck destroyed in the 2003 Canberra bushfires. It is part of the National Museum's collection.
---
Further information
Classroom activities for The Day I Was History
---