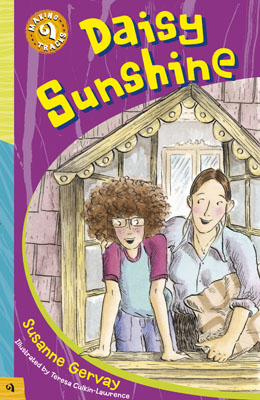 by Susanne Gervay
illustrated by Teresa Culkin-Lawrence
ISBN 9781876944674
198mm x 130mm
64pp black and white illustrations
published December 2008
RRP A$11.95 (OUT OF STOCK)
---
Daisy and her mum have just moved into the Grand Private Hotel belonging to Mr and Mrs Papadopolous. It's all new and strange, but Nina, Old Dot, the Colonel and especially Rainbow Rose are there to help them make a new life for themselves. But what's so special about the year 1975?
Susanne Gervay draws us into the hectic social changes of the 1970s with her story of a young girl meeting new people and becoming involved in the movement for equal rights of women.
A great resource for teachers to use for both the SOSE and English curriculum. The title is supported online with a synopsis, discussion questions, and classroom activities, including reproducible worksheets.
Daisy Sunshine is a fictional story inspired by a 1970s 'Superwoman' T-shirt from the National Museum of Australia's collection.
---
THIS ITEM IS OUT OF STOCK.
---
Further information