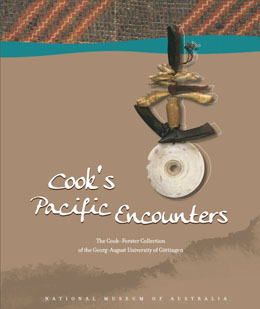 ISBN 1876944471
paperback, 128 pages
285 x 240mm, colour
published June 2006
RRP A$39.95 (SOLD OUT)
---
Cook's Pacific Encounters brings together objects from the Cook-Forster collection of the Georg-August University of Göttingen, Germany, and materials related to Cook's voyages held in Australian collections.
The Cook-Forster collection comprises artefacts collected during the three Pacific voyages of Captain James Cook. Originating from the islands of the Pacific, it is the largest identifiable collection of Cook-related objects anywhere in the world.
This is the first time these unique objects, untouched by European influence, have been shown in Australia.
---
Further information
View the Cook-Forster Collection online
---