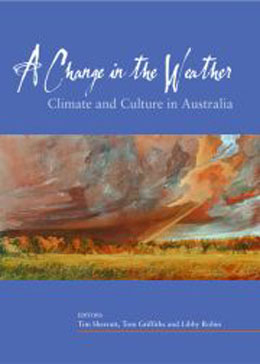 Tim Sherratt, Tom Griffiths & Libby Robin (eds)
ISBN 1876944285
hardback, 224 pages
245mm x 175mm, colour
published January 2005
RRP A$49.95 (OUT OF STOCK)
---
Climate is what you expect, weather is what you get. The weather, our daily experience of nature, affects the way we feel and act. It can change lives, particularly in Australia, a continent of extreme, unpredictable and variable weather conditions. Climate plays a considerable role in the society and culture of the 'El Niño Continent'. A Change in the Weather is an interdisciplinary 'weather report' that draws together perspectives from the social sciences, the humanities, science and engineering to deepen our understanding of the relationship between climate and culture in Australia.
With essays by: Bill Bunbury, Daniel Connell, Tom Griffiths, Richard Grove, Clive Hamilton, RW Home, Ian Lowe, Janet McCalman, Tony McMichael, Neville Nicholls, Libby Robin, Deborah Rose, Janis Sheldrick, Tim Sherratt, Mike Smith and David Walker.
---
THIS BOOK IS OUT OF STOCK.
---