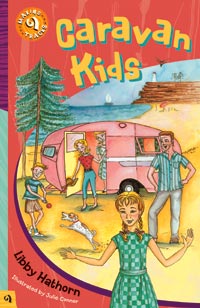 by Libby Hathorn
illustrated by Julie Connor

ISBN 1876944447
paperback, 64 pages
198mm x 130mm, black and white illustrations
released July 2006
RRP A$9.95 (OUT OF STOCK)
---
Sally Smyth-with-a-y desperately wants an adventure! What better place to find one than spending the summer in a caravan at the beach? There might be pirate ships, or maybe even a beach rescue. Whatever happens, she's ready for it ... or is she?
Libby Hathorn is an award-winning author of more than 40 children's books. Libby is a natural storyteller. Her previous books include The Painter, Way Home and The River.
Julie Connor fully immersed herself in the 1950s to illustrate this summer adventure story.
Caravan Kids features the treasured Propert caravan, part of the National Museum of Australia's collection.
---
THIS BOOK IS OUT OF STOCK.
---
Further information
Classroom activities for Caravan Kids

---