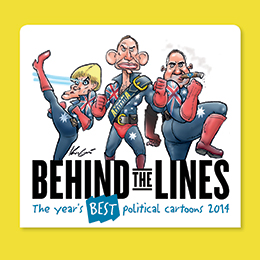 ISBN 9781921953200
Paperback, 111 pages
170mm x 170mm, full colour
Published November 2014
RRP A$19.95
---
Behind the Lines: The Year's Best Cartoons 2014 is a celebration of Australian political cartooning. Relive the major highlights and events of Tony Abbott's first year as prime minister, including the first coalition budget and its winners and losers, debates over carbon emissions, the government's policy of silence on 'operational' matters, the reintroduction of knights and dames and the influence of Clive Palmer and micro-party senators on the balance of power.
Witty, wise and often sceptical, the cartoons presented in Behind the Lines are always a captivating reflection on the past 12 months of Australian politics
---
Buy online now from our Museum Shop.
---