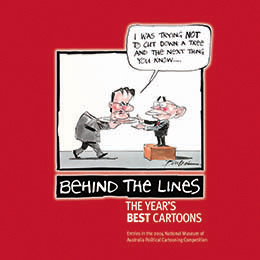 ISBN 187694434X
paperback, 108 pages
170mm x 170mm, colour
published February 2005
RRP A$19.95 (OUT OF STOCK)
---
Behind the Lines brings together a selection of the best cartoons and illustrations entered in the National Museum of Australia's 2004 political cartooning competition. Each cartoon provides a snapshot of the changing landscape, reminding us of the events in federal politics in recent times.
Behind the Lines celebrates Australian political cartooning and provides us with a wonderful opportunity to review the year in Australian politics.
---
THIS ITEM IS OUT OF STOCK.
---
Further information