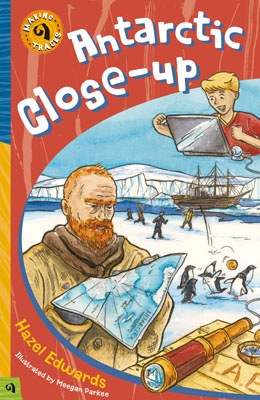 by Hazel Edwards
illustrated by Meegan Parkee

ISBN 9781876944544
paperback, 64 pages
198mm x 130mm, black and white illustrations
published September 2007; re-released January 2015
RRP A$11.95

---
John loves to fiddle with things, but when he connects a broken webcam to an old telescope he is in for a shock. Suddenly he finds himself looking back in time, caught up in a very 'cool' Antarctic adventure.
Both the author and illustrator of this title have spent time in the Antarctic. They draw on these experiences in creating a wonderful Antarctic adventure. Perfect for International Polar Year in 2007.
Antarctic Close-up is supported by fun, child-friendly interactive activities on the National Museum of Australia website, to further engage young readers.
A great resource for teachers to use for both the SOSE and English curriculum. The title is supported online with a synopsis, discussion questions, and classroom activities, including reproducible worksheets.
Antarctic Close-up features the telescope that belonged to John Collinson Close, a member of Sir Douglas Mawson's 1911 Antarctic expedition. It is part of the National Museum's collection.
This book can be ordered through bookshops and educational suppliers.
---
Further information
Classroom activities for Antarctic Close-up
---