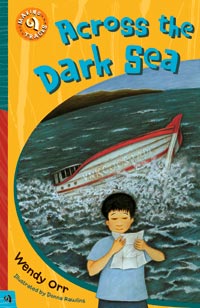 by Wendy Orr
illustrated by Donna Rawlins

ISBN 1876944455
paperback, 64 pages
198mm x 130mm, black and white illustrations
published May 2006; re-released January 2014
RRP A$11.95
---
They didn't look like pirates: they looked like ordinary fishermen, but with eyes as quick and glittering as their knives ...
Trung's adventure begins in the dead of night. He and his father escape the soldiers with guns. But what awaits them across the dark sea?
Wendy Orr has won multiple awards for her many titles, including Arkin the Park and Nim's Island. Her exquisite style has enthralled numerous young readers.
Donna Rawlins is a prolific and expert children's book illustrator. Her drawings help to create the mood of this haunting and beautiful story.
Across the Dark Sea features a fishing boat used to flee Vietnam after the war. The Hong Hai, part of the National Museum's collection, was also used for this purpose.
---
This book can be ordered through good bookshops and educational suppliers.
---
Further information
---
Across the Dark Sea

---