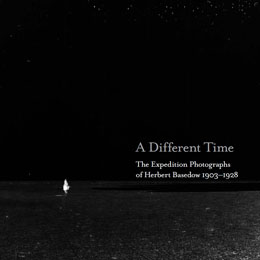 ISBN 9781876944650
hardback, 224 pages
230mm x 280mm, duotone images
published July 2008
RRP A$29.95 (SOLD OUT)

---
Herbert Basedow was an anthropologist, geologist and medical doctor who used photography to document his expeditions into central and northern Australia in the early decades of the twentieth century.
A Different Time: The Expedition Photographs of Herbert Basedow 1903–1928 draws on the National Museum of Australia's rich collection of Basedow's photographic work.
These revealing, sometimes confronting images provide a fascinating historical record of the people and places he encountered, and life in remote Australia in the early 1900s.
---