The National Museum of Australia's 2014-15 Annual Report is available in both HTML and PDF (3.3mb)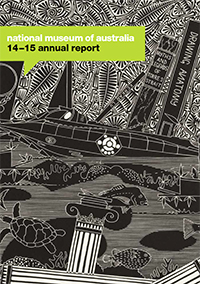 Requests and enquiries concerning the contents of the report should be addressed to:
The Director
National Museum of Australia
GPO Box 1901
Canberra ACT 2601
Telephone: (02) 6208 5000
Facsimile: 1300 765 587
Email: information@nma.gov.au
Cover photograph: Navigating narrative, Nemo's encounter in the Torres Strait (2012). Linocut by Brian Robinson.
All photography by George Serras and Jason McCarthy unless otherwise indicated.
Photographs copyright National Museum of Australia