People management
People are vital to the performance of the Museum. The Museum is committed to attracting, developing and retaining people of high calibre, skill and experience; it values greatly the diverse backgrounds and perspectives of its staff, and regards workplace diversity as fundamental to its success.
People who make a valued difference to the Museum's work and work environment are recognised and appreciated for their contribution. The Museum places high value on the performance and capability of its people. This is reflected in its Strategic Plan, with a key business priority for the year being to support workforce diversity and skill retention.
Impact and features of workplace agreements
The Museum has three standard types of employment agreements in place: Senior Executive Service Australian Workplace Agreements (AWAs) that individually cover each Senior Executive Service (SES) employee; a Museum-wide agreement covering most non-SES employees; and individual AWAs covering a small number of non-SES employees. Up until early 2008, and in line with government policy, AWAs were available to non-SES staff on a case-by-case basis. Under the Transition to Forward with Fairness legislation, AWAs will continue to operate until they are terminated or the relevant employment ceases; however, no new AWAs may be made.
The current certified agreement, the National Museum of Australia Workplace Agreement 2005–08, passed its nominal expiry date of 30 June 2008. Planning for a replacement collective agreement between the Museum, its staff and the Community and Public Sector Union commenced in late June 2007 and formal negotiations commenced in March 2008, continuing through the remainder of the financial year. The negotiations were protracted and complicated by the need to adapt arrangements to the requirements of the Work Choices legislation and the prospective intervening federal election.
By late June 2008, negotiations for the new certified agreement were largely complete, with a comprehensive and well-received staff engagement program generating constructive input to the negotiations. Significant productivity was expected as a result of initiatives in the areas of family-friendly employment practices, measures to encourage Indigenous employment and cultural engagement, measures to retain valued mature-age employees, individual employment flexibility, and limited use of casual and intermittent employment arrangements.
Productivity initiatives in the 2005–08 certified agreement had continuing impact during the year, including:
implementing improvements to the Workplace Conversations individual performance management framework, including team conversations to further develop the links to the Museum's Strategic Plan and better support team planning and performance
improving corporate training delivery with the continuation of a training prospectus to allow managers and staff to better plan training commitments
ongoing annual review of performance management arrangements and revision of online processes to address suggestions from staff feedback
implementing new online recruitment technology to enable applicants to lodge job applications through the internet
review of the 2001 front-of-house strategy, including the review of rostering and operating environments.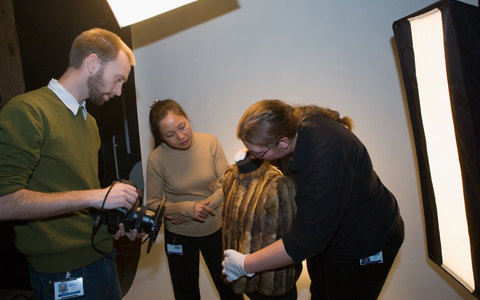 Attracting the right people and doing it better
The Museum operates in an environment of increasing skills shortage and tough competition for appropriately experienced and skilled people. It understands the importance of securing the preferred people through efficient and effective recruitment processes, and worked to successfully reduce the time involved in recruitment activity in 2007–08.
For example, in both 2005–06 and 2006–07 the time period between advertising a vacancy and the delegate approving the selection committee's recommendations was, on average, between 70 and 80 calendar days. In 2007–08 this was reduced to just under 50 calendar days through better planning by selection committees, more streamlined central processing, and working closely with managers to achieve the best outcome within available legislative requirements and flexibilities.
The Museum's recruitment processes also benefited from the introduction of the electronic gazette and APS jobs website, coordinated by the Australian Public Service Commission, which assisted recruitment staff in meeting deadlines and in being more responsive to clients. The Museum's new online recruitment functionality will also allow more effective internal analysis of applicant data.
This year, the Museum reviewed its induction and orientation processes, to ensure employees receive valuable and important information early in their careers at the Museum. A new online induction package was introduced to enhance the induction experience and complement existing practices. This new package comprises a mixture of self-paced learning, face-to-face group workshops and tours of key Museum facilities.
Innovative face-to-face interpretation
The Museum does it best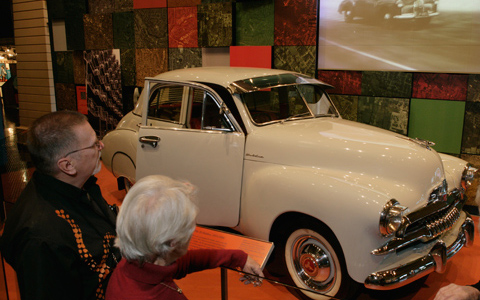 The Museum's active relationship with the Interpretation Australia Association (IAA) goes back several years. Visitor Services and Volunteers Coordinator Tristan Hoffmeister currently represents the ACT Chapter on the national body, and Visitor Services staff are regular IAA conference attendees.
At the IAA's 2007 conference, the Museum's paper attracted considerable acclaim. Presented by Tristan, with colleagues Kelee Hodge and Trevor Reid, the paper focused on how the Visitors Services team uses dynamic face-to-face interpretation to engage visitors with Museum themes. The Museum team told conference delegates about the key elements of the Museum's face-to-face interpretation philosophy; including the belief that visitor engagement is often most successful when live interpretation can enhance what is found in the written text of brochures and exhibition labels. The goal is to leave visitors feeling connected, inspired and curious to learn more, and to give people an opportunity to share their own stories with Museum staff.
As an example of the Museum's proactive and flexible approach to engaging visitors, Tristan, Kelee and Trevor described the recent introduction of 'Roving hosts' and 'Host talks' programs, which have been introduced to increase the options for visitors to access face-to-face interpretation.
The winter 2007 edition of IAA's magazine reported on the Museum's previous National Tourism Award, asking 'How do they do it?' before answering, 'Innovative, face-to-face-interpretive services is one way'.
Supporting and maintaining a strong individual performance management culture
The Museum's staff performance management framework, Workplace Conversations, is a key productivity initiative in the National Museum of Australia Workplace Agreement 2005–08.
The intent of Workplace Conversations remains the same as previous years: that is, a 'guided conversation' approach. Each year, the Museum undertakes an evaluation of this framework and its associated processes (conducted this year in April–May). Results continue to indicate that it is a healthy and useful framework. Based on staff feedback, there will be some refinement to the online recording process of conversation outcomes for the 2008–09 cycle.
The Workplace Conversations program continues to use Museum-specific work-level standards to clarify job roles and expectations, and Museum-specific capability profiles to identify and reinforce work behaviours that support the Museum's objectives. Workplace Conversations require staff members to have regular performance discussions with their manager. These formal guided discussions cover the scope and deliverables of the staff member's position, the support required to deliver them, and a documented agreement on relevant learning and development opportunities. Links are made between a staff member's work and the overall strategic and business priorities of the Museum, as well as the specific capabilities the person will concentrate on in the conduct of their position. Aggregate learning and development data assists in the development of overall corporate training activities.
Mid-cycle team conversations encourage discussions on team performance and complement the regular individual focus characteristic of Workplace Conversations. The Museum considers it important for teams to consider and celebrate their successes.
Workplace Conversations training was provided across the Museum, particularly in introducing new staff to the performance management framework and helping existing staff to enhance their communication, negotiation, conciliation, workplanning, leadership and management capabilities.
The external human resources consultant, Interaction Consulting Group, continued to provide performance management training, evaluation and support services to Museum staff.
Enhancing our capability through learning and development
The Museum's corporate training program is driven largely by individual development needs identified through Workplace Conversations, and the Museum's strategic and business priorities. It is further informed by learning activity evaluation.
In 2007–08 the Museum's corporate training program focused on: building capability in cultural awareness, leadership, contract management, recruitment and staff selection, writing, performance management, and application of the Australian Public Service (APS) Values and Code of Conduct. There was also an emphasis on revising induction and orientation processes, and the associated learning experience.
The goals of the program are aligned with the Museum's Capability Profile, which has 10 elements: thinking and acting strategically, focusing on the customer, building knowledge and capability, leading and managing, communicating with skill, creating and innovating, getting results, being self-aware and acting professionally, working well with others and together, and knowing and understanding the business.
As in previous years, in 2007–08 a number of staff members presented papers at conferences and seminars, undertook research and attended technical and professional workshops. A list of these activities is reported in Appendix 7.
In addition, two staff members took part in the 2007 Cultural Management Development Program (CMDP), with another staff member enrolled in the 2008 CMDP. One staff member attended the Advanced Workplace Skills Program (AWSP) during 2007, with another two enrolled in the 2008 AWSP. Both the CMDP and AWSP are collaborative development programs, run in conjunction with other cultural institutions in Canberra.
In recognition of the Museum's unique role in telling the stories of Indigenous Australia and maintaining a significant collection representing Aboriginal and Torres Strait Islander cultures, the Museum continued the program, introduced in June 2007, to enhance staff cultural engagement with Aboriginal and Torres Strait Islander culture and society. The majority of Museum staff attended these workshops. The program explores the relationships between Indigenous Australians and the Museum in all aspects of its business. It looks at practical aspects, such as how staff acknowledge, celebrate and engage with cultural differences in general, and with Indigenous Australians in particular, and the benefits of having an Indigenous Australian perspective in the workplace. The Museum plans to develop a follow-up program in 2008–09 designed to further embed cultural competencies.
The National Museum of Australia Workplace Agreement 2005–08 also enabled staff to access Museum-sponsored study leave, with special provisions for staff to learn languages other than English.
Other staff training focused on core behaviours, skills and knowledge required by people across the Museum, and included:
seminars on mental health in the workplace, with a particular emphasis on depression and anxiety
seminars on OH&S for all staff, through induction presentations, as well as focused OH&S presentations for Visitor Services teams
manual handling training
refresher courses for first aid officers, wardens and section health and safety representatives
regular and comprehensive orientation programs for all new Museum employees.
Maintaining a consultative culture
During the year the Museum continued to implement collaborative staff consultation arrangements in accordance with the National Museum of Australia Workplace Agreement 2005–08. In addition to direct staff consultation at the work group level, the Museum continued consultation through theMuseum Consultative Forum (MCF) and Workplace Development Committee (WDC) to facilitate discussions on broad and operational issues for staff across the Museum. The MCF provides for staff input into high-level strategic issues, while the WDC focuses on operational issues across the Museum. The MCF met twice during the year. In line with agreed arrangements, the WDC received updates on several standing items throughout the year.
Supporting and making workplace diversity a priority
The Museum's Workplace Diversity Plan 2005–08 seeks to create an environment that is supportive of people's diversity by building knowledge and capabilities within the Museum from many backgrounds, having business processes that support diversity, and developing diverse ways to work. In implementing the plan, the Museum continued to encourage a staffing profile that reflects Australia's cultural diversity. This was done through measures such as recruitment strategies; promoting APS values relating to diversity; continuing the Indigenous Employment Implementation Group (a sub-group of the Museum Consultative Forum, and chaired by the Museum's Director); maintaining a network of equity and diversity contacts; and continuing to raise awareness on ways to prevent bullying and harassment in the workplace.
Formal reporting to Parliament of the Museum's progress against implementing the Charter of Public Service in a Culturally Diverse Society, through the Department of Immigration and Multicultural and Indigenous Affairs, did not occur federally in 2007–08, hence our performance was not assessed externally against the framework, as has been the case in previous years.
The Museum is aware of the ongoing decrease in the number of Indigenous people employed across the Australian Public Service, and continued to take particular measures during the year to provide and support employment opportunities for Indigenous people. These included establishing a dedicated role in the Visitor Services and Volunteer team to promote, facilitate and support the employment of several Indigenous people; the provision of cultural awareness training for staff focusing on Indigenous culture; and the continued employment of three people under the Indigenous Cadet Program. The Cadet Program supports the cadets in completing their post-secondary education and in gaining valuable on-the-job work experience, along with ongoing employment upon successful completion of the program.
As at 30 June 2008, the number of Museum staff members who identified themselves as belonging to specific groups was:
Museum staff who report as belonging to specific groups
| | | |
| --- | --- | --- |
| Group | No. | % total staff |
| Aboriginal and Torres Strait Islander peoples | 15 | 5.3 |
| People with disabilities | 6 | 2.1 |
| Culturally and linguistically diverse backgrounds | 33 | 11.2 |
| Females | 199 | 70.6 |
Indigenous cadets
An experience to remember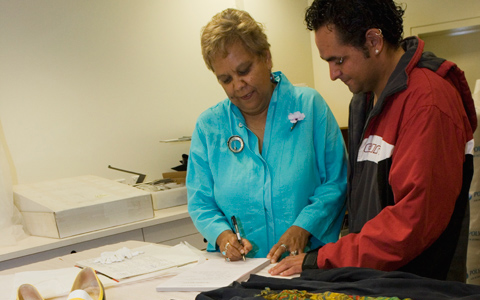 In July 2007, Rebecca Richards, Ben Cruse and Kashia Collins became the Museum's inaugural Indigenous Cadets. The Indigenous Cadet Program offers financial assistance while studying, along with practical 12-week work placements during each summer university break and a guaranteed APS 3 position after the cadets successfully complete their undergraduate degrees.
Rebecca, originally from South Australia's Nepabunna Aboriginal community, is studying for a Bachelor of Arts (psychology and anthropology) at the University of South Australia. She says that the cadetship experience 'has changed my preconceived ideas about what a museum does or should do'. Kashia, from Queensland, is studying for a Bachelor of Arts (cultural sociology) at Brisbane's Griffith University, and her greatest experience was working on both the Papunya Painting: Out of the Desert exhibition and in the Gallery of First Australians, which gave her a great sense of pride. Ben, who is studying at The Australian National University, comes from coastal New South Wales and is undertaking a Bachelor of Arts (archaeology and anthropology) degree. He reported that he particularly enjoyed working with the Visitor Services and Volunteers team, calling them 'a great bunch of people to work with'.
All three cadets attended the Museum's two-day orientation program in July 2007 and, after completing the university year, worked full-time for three months from December 2007. The first summer placement in 2007–08 gave the cadets experience of working with staff from the Visitor Services and Volunteers team, and the Education and Audience Development/Public Programs teams. The cadets were involved in meeting and greeting visitors to the Papunya Painting exhibition, assisting with school groups and participating in the Australia Day family event.
Providing better security and privacy for clients
Accommodation for the Museum's Employee Relations and People Development team was improved during the year to provide a better contact and welcome point for clients, and to provide better security for personnel information and privacy for assisting clients.
Post-separation employment
There were no applications for post-separation employment during the year.
Educational and developmental placements
The Museum continued to be a sought-after venue for secondary and tertiary students seeking work experience, with 17 students undertaking work experience placements during the year across different areas of the Museum. This year, the Museum also placed a number of students through various programs outside the usual student-initiated work experience requests, resulting in work experience opportunities for an Indigenous student, a student with a disability and an 'at-risk' student.
The Museum also hosts interns from The Australian National University's Museums and Collections program, which is coordinated jointly between the Museum's Centre for Historical Research and the university.
People recognition
Staff recognition at the Museum is usually expressed formally between those most directly involved in individual performance management. This is a critical level of recognition, stressing the importance of having constructive Workplace Conversations throughout the year aligned with strategic and business priorities.
The Museum also provided for wider recognition of significant contributions and achievements by its staff, with the Director presenting Australia Day Achievement Medallions to 40 staff members who had made noteworthy contributions to the work of the Museum during the past year, or over a number of years.
Internal communications and staff news are regularly communicated through the Museum's active intranet and the internal newsletter, the Loop, which is produced by the Public Affairs team.
Staffing information
Museum staff members are employed under the Public Service Act 1999, and employment conditions are established under legislation applying to the Australian Public Service and, in particular, the Museum's Workplace Agreement.
The average staffing numbers over the past three years (see graph below) would indicate the Museum's overall numbers have stabilised within the 280–300 range, with the gender split fairly constant every year. At 30 June 2008, the Museum employed 282 staff, consisting of 221 ongoing and 61 non-ongoing employees, which represented a full-time equivalent number of 250.6.
A full breakdown is shown in Table 1. Tables 2 and 3 provide additional breakdowns, by division and employment category as at 30 June 2008, and by APS level, respectively.
Total staff numbers, 2003–08 (at 30 June each year)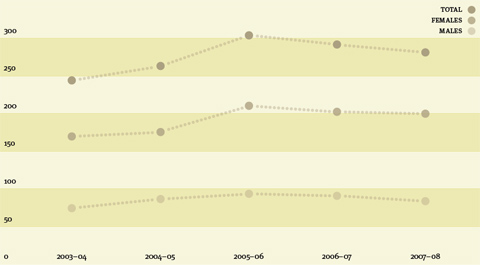 Table 1 Staffing by employment status
| | | | |
| --- | --- | --- | --- |
| Status | Male | Female | Total |
| Ongoing full-time Principal Executive Officer (PEO) | | | 0 |
| Non-ongoing full-time PEO | 1 | | 1 |
| Ongoing full-time Senior Executive Service (SES) | 1 | 2 | 3 |
| Ongoing full-time non-SES | 59 | 100 | 159 |
| Ongoing part-time SES | | | 0 |
| Ongoing part-time non-SES | 11 | 48 | 59 |
| Non-ongoing full-time SES | | | 0 |
| Non-ongoing full-time non-SES | 8 | 33 | 41 |
| Non-ongoing part-time SES | | | 0 |
| Non-ongoing part-time non-SES | 3 | 16 | 19 |
| TOTAL | 83 (29%) | 199 (71%) | 282 |
Table 2 Staffing by division
| | | | |
| --- | --- | --- | --- |
| Division | Ongoing | Non-ongoing | Total |
| Directorate | 28 | 9 | 37 |
| Operations | 41 | 9 | 50 |
| Collections and content | 62 | 25 | 87 |
| Audience and programs | 90 | 18 | 108 |
| TOTAL | 221 | 61 | 282 |
Table 3 Staffing by APS level
| | | | |
| --- | --- | --- | --- |
| APS level | Male | Female | Total |
| PEO | 1 | | 1 |
| SESB2 | | | 0 |
| SESB1 | 1 | 2 | 3 |
| Executive Level 2 | 13 | 14 | 27 |
| Executive Level 1 | 11 | 25 | 36 |
| APS6 | 14 | 30 | 44 |
| APS5 | 13 | 27 | 40 |
| APS4 | 9 | 42 | 51 |
| APS3 | 8 | 19 | 27 |
| APS2 | 12 | 38 | 50 |
| APS1 | | | 0 |
| Cadet | 1 | 2 | 3 |
| TOTAL | 83 (29%) | 199 (71%) | 282 |