The Museum values the contribution of volunteers and recognises the wide range of skills and knowledge they bring to the Museum. By engaging volunteers the Museum is able to actively involve members of the community in its programs and promote two-way transfer of skills and knowledge.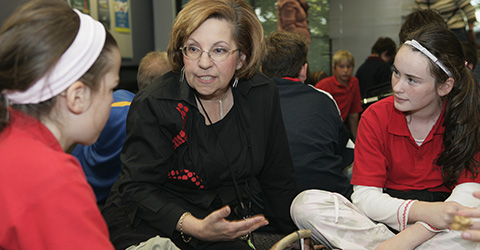 This year 77 volunteers contributed 4689 hours to the Museum. They participated in the following programs and activities:
Education: Twenty-eight volunteers, including six new people this year, contributed a total of 1510 hours. They assisted Education staff in presenting many of the programs for booked school groups.
Public Programs: Volunteers continued to develop and operate touch trolleys allowing visitors, particularly children, to touch and explore objects. Two volunteers developed a touch trolley for the Between the Flags exhibition; this was very popular and is now travelling around Australia with the exhibition. Eleven volunteers contributed 396 hours to a range of public programs in the Museum.
Museum Library: Volunteers assisted with cataloguing, repair, protection and security of the Library's collections. During the year, two volunteers contributed 206 hours to the Library's operations.
Records Management: Volunteers assisted with preparation of Museum Collection files prior to their being scanned. They contributed 79 hours to Records Management this year.
Curatorial: A volunteer assisted with the organisation of the Herbert Basedow photographic collection. One volunteer contributed 47 hours this year.
The Museum's most significant volunteer program supports the former Murray River paddle-steamer, PS Enterprise — its crew is drawn entirely from volunteers. The volunteers fulfil different roles depending on their qualifications and experience, bringing the PS Enterprise to life. Forty-one volunteers contributed 2451 hours to ensuring the PS Enterprise operated on at least one day of each weekend from September 2006 to May 2007. There were 4490 visitors to the vessel who heard volunteers explain its history, construction and operation.