Outreach events
The Museum acknowledges the primacy of national audiences and strives to ensure that its range of exhibitions, programs and services are developed within a national framework.
Outreach policy, February 2005
As part of its strategic priority to engage audiences beyond the Museum's Canberra site, the organisation undertook a range of public outreach programs.
A major commitment this year was to supply programming for Croc Festivals, a series of events toured nationally and managed by Indigenous Festivals Australia. Croc Festivals travelled to seven states and territories over two-and-a-half months and attracted more than 15,000 Indigenous and non-Indigenous young people from regional and remote locations. The tour started in Weipa, Queensland, then moved to Katherine in the Northern Territory; Derby and Geraldton in Western Australia; Port Augusta in South Australia and Swan Hill in Victoria; before finishing in Moree, New South Wales.
The Museum contracted hip-hop artists Morganics and Wire MC, and video artist Finton Mahony, to facilitate workshops for students who wrote and recorded their own songs and videos. Through these recordings the students were able to express their views about their community, their lives and aspirations and the challenges confronting them. The 14 tracks and seven music videos were developed as a package also containing a 25-page song booklet sent to all participating schools. Two tracks are being featured in the First Australians gallery's Our Community exhibition.
Following the success of online Basin Bytes projects in Echuca and Wentworth last year, the Museum has begun development of online exhibitions with communities in Toowoomba, Queensland and Goolwa, South Australia - at opposite ends of the Murray-Darling system.
The Museum is one of the few cultural institutions in the world to have a broadcast studio capable of producing broadcast-quality radio, television programs, video conference and webcasts. The Studio enabled the Museum's outreach activities this year to include several programs hosted in conjunction with the Australian Science Festival. These included three panel discussions, broadcast live on Radio National.
Outreach map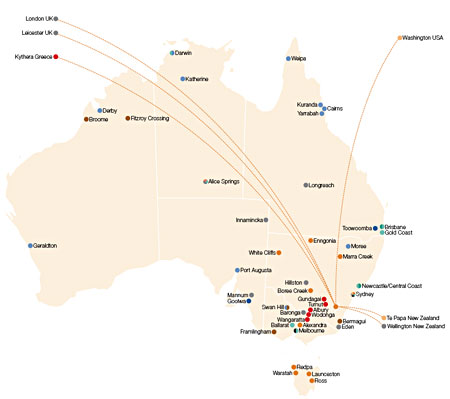 Program
Place
State
Territory
Country
Basin Bytes
Goolwa
South Australia
Toowomba
Queensland
Croc Festivals
Weipa
Queensland
Katherine
Northern Territory
Derby
Western Australia
Geraldton
Western Australia
Port Augusta
South Australia
Swan Hill
Victoria
Moree
New South Wales
Kuranda
Queensland
Cairns
Queensland
Yarrabah
Queensland
Darwin
Northern Territory
Songs and Stories
Wangaratta
Victoria
Wodonga
Victoria
Albury
New South Wales
Tumut
New South Wales
Gundagai
New South Wales
Kythera
Greece
Looking Around
Gap Youth Centre, Alice Springs
Northern Territory
Royal Flying Doctor Service, Alice Springs
Northern Territory
The Narrows, Darwin
Northern Territory
Snapshots
Sydney
New South Wales
Boree Creek
New South Wales
Enngonia
New South Wales
Marra Creek
New South Wales
White Cliffs
New South Wales
Redpa
Tasmania
Waratah
Tasmania
Launceston
Tasmania
Ross
Tasmania
Alexandra
Victoria
Talkback Classroom
Washington
USA
Te Papa
New Zealand
Sydney
New South Wales
Teaching History Fellowships
Brisbane
Queensland
Newcastle/
Central Coast
New South Wales
Professional Development for Teachers
Darwin
Northern Territory
Alice Springs
Northern Territory
Brisbane
Queensland
Gold Coast
Queensland
Melbourne
Victoria
Ballarat
Victoria
Sydney
New South Wales
Newcastle
New South Wales
Conference Presentations
Melbourne
Victoria
Sydney
New South Wales
Repatriation staff visited
London
United Kingdom
Leicester
United Kingdom
Wellington
New Zealand
Eden
New South Wales
Sydney
New South Wales
Baronga
New South Wales
Hillston
New South Wales
Alice Springs
Northern Territory
Longreach
Queensland
Mannum
South Australia
Goreta
South Australia
Innamincka
South Australia
Repatriation has had close involvement with groups in
Sweden
Bermagul
New South Wales
Framlingham
Victoria
Swan Hill
Victoria
Broome
Western Australia
Fitzroy Crossing
Western Australia