7 Apr 17

Welcome to our new Welcome Space
Canberra's Aboriginal community and the National Museum's Indigenous Reference Group have celebrated the launch of the First Australians gallery's new Welcome Space, the culmination of two years' work.
The Ngunnawal, Ngunawal and Ngambri peoples, as host nations, share their stories of continued connectivity to this ancient land via life-size digital screens, murals, personal stories and immersive experiences.
Cultural custodians
The Ngunnawal, Ngunawal and Ngambri peoples are the cultural and spiritual custodians of all that is on their country – the people, material culture and the spirit of those stories shared. This encompasses the Museum and everything in it.
The presence of our host nation peoples is strong and insightful, giving visitors a different perspective of Canberra and local protocols explored through digital technology, graffiti and art.
This sharing of stories and knowledge in first person gives Museum visitors a personal invitation to share something special. The stories are told with distinct humour and drama to communicate insights, beliefs and values.
The welcome to country, connection to country and message stick digital displays offer personal engagement and an invitation for Museum visitors to understand more abstract Aboriginal and Torres Strait Islander concepts, as told by Aboriginal and Torres Strait Islander peoples.
We hope the Welcome Space sets the scene and ensures a more meaningful experience that resonates with visitors as they move through the First Australians gallery.
You can also see many of the personal video stories on the Museum's YouTube channel.
You may also be interested in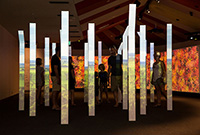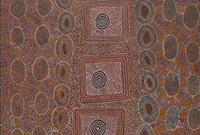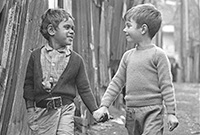 504645
576365
568869
558890
558733
540334
517446
535108
535167
533985
533694
527942
527378
524798
522450
521352
519072
517553
516283
516179
514579
514509
514310
513855
512249
510452
508942
509149
508918
508843
508176
508208
506723
506088
504645
504335
504509
503450
502722
502069
501972
500921
500837
500362
500509
499822
498893
498600
Read next >>
<< Read previous
News index