6 Mar 17

Our soon to be refurbished Main Hall entry will be an inviting light-filled space where visitors can orientate themselves and plan their journey. Visitors will see more objects from the Museum's collection and a specially commissioned Aboriginal artwork suspended from the ceiling.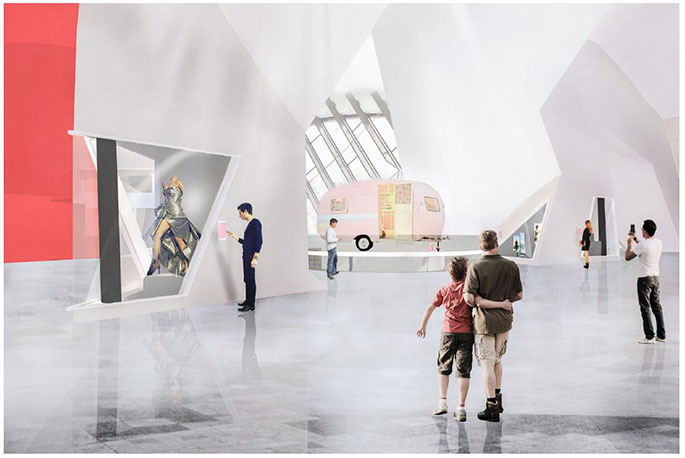 New object and digital displays
Design studio Trigger has worked closely with the Museum, in consultation with architects ARM, to design the new look for the Hall.
New display cases are being installed in four of the Hall's expansive columns. On entry visitors will see a new acquisitions case featuring the stunning Toni Maticevski dress worn by Jessica Mauboy at the Eurovision Song Contest.
Another column – nicknamed 'Straight to the pool room' by Museum staff – features trophies awarded for events and endeavours ranging from early horseracing and boxing contests to flying feats and the Miss Australia Quest.
Works created in Aboriginal and Torres Strait Islander communities across Australia will be displayed in an object theatre column. Controlled lighting conditions in this case allow us to show objects made from delicate woven fibres and feathers, which have been a conservation challenge in this light-filled space in the past.
These Indigenous objects are linked to a series of Defining Moments in Australian History. Visitors can also explore a large-scale interactive digital display of Defining Moments.
Another column will showcase kangaroo objects amassed by art curator and collector Terence Lane. These entertaining and thought-provoking objects have have not been on show for many years and expected to be particularly popular with children and school groups.
More large objects on show
Complementing the new showcases are a series of freestanding large objects representing the Museum's key collecting areas.
Popular objects that had been on show for several years, including the much-loved saw doctor's wagon, have been moved out of the Hall to make way for a 1950s pink Propert caravan, an early FJ Holden and a replica Muttaburrasaurus skeleton.
An exciting new addition is a specially commissioned Indigenous artwork by interdisciplinary artist Reko Rennie, with Urban Art Projects. This work will be suspended from the ceiling at the centre of the Hall.
The Hall will remain open throughout the refurbishment and we look forward to welcoming visitors to the new space later this year.
Read about the May 2018 renaming of the Main Hall to Gandel Atrium
You may also be interested in
Key events in Australian history
Kangaroo art objects and ephemera
One woman's treasured car
503450
580359
576365
568869
558890
558733
540334
517446
535108
535167
533985
533694
527942
527378
524798
522450
521352
519072
517553
516283
516179
514579
514509
514310
513855
512249
510452
508942
509149
508918
508843
508176
508208
506723
506088
504645
504335
504509
503450
502722
502069
501972
500921
500837
500362
500509
499822
498893
498600
Read next >>
<< Read previous
News index