1 Jun 17

Visitors to the National Museum are starting to see changes to our Main Hall this week. The temporary relocation of our Information Desk to the existing Cloakroom and the erection of hoardings are the first physical signs that our main entry space is being transformed.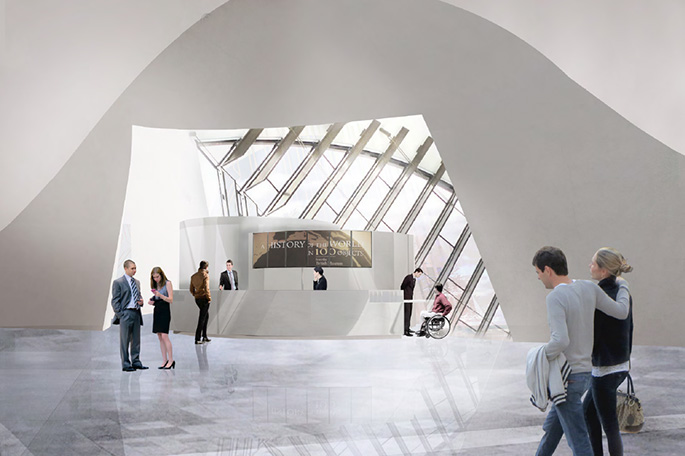 The new space, due to be revealed this September, will include new display cases in the columns of the Hall. These jewel-like displays will be home to objects from the Museum's collections. Large freestanding objects and a specially commissioned artwork from Reko Rennie are other features. Read more about transforming the Main Hall.
For now, most of the magic will take place behind the hoardings, as the showcases are installed. The Hall will be open to visitors throughout the refurbishment.
Visitors will find our cloaking service along with maps, information about exhibitions, tickets and tours at the Information Desk to the left of the entrance, near the Friends Lounge.
From September, the new Information Desk – expected to look something like the artist's impression above – will be located directly to your right as you enter the Hall.
Behind the scenes, consultants, contractors and Museum staff have been working in the past weeks to ensure the elements required to deliver the refurbishment are in place. This has included site surveys, working on joinery shop drawings and details, testing interactive technology pieces and checking of material selections.
Read about the May 2018 renaming of the Main Hall to Gandel Atrium
You may also be interested in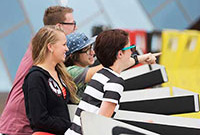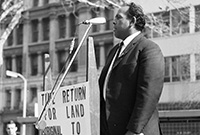 509149
572207
580359
584136
576365
568869
558890
558733
540334
517446
535108
535167
533985
533694
527942
527378
524798
522450
521352
519072
517553
516283
516179
514579
514509
514310
513855
512249
510452
508942
509149
508918
508843
508176
508208
506723
506088
504645
504335
504509
503450
502722
502069
501972
500921
500837
500362
500509
499822
498893
498600
Read next >>
<< Read previous
News index